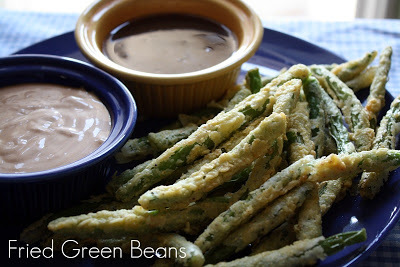 vegetable oil for frying
1 - cup all purpose flour
1 - cup yellow cornmeal
1 - tablespoon salt
1 1/2 teaspoons ground black pepper
1/2 - teaspoon ground red pepper
1 - pound fresh green beans, ends trimmed
1 - cup whole buttermilk
1 - recipe zesty dipping sauce
Zesty Dipping Sauce:
1/3 - cup mayonnaise
1/3 - cup ketchup
1 - tablespoon Worcestershire sauce
1/4 teaspoon ground black pepper
1/8 teaspoon garlic salt
In a small bowl, combine mayonnaise, ketchup, Worcestershire, pepper, and garlic salt.
Whisking to blend. Store in refrigerator until ready to use.
In a large dutch oven, pour oil to a depth of 2 inches.
Heat oil over medium-high heat to 375 degrees.
In a medium bowl combine flour, cornmeal, salt, black pepper and red pepper.
Dip green bean in buttermilk then dredge we beans in flour mixture to coat. (I doubled dipped the beans)
Fry beans in batches, until golden brown and crisp, approximately 3 to 5 minutes per batch.
remove from oil and drain on paper towels.
Serve warm with zesty dipping sauce or Asian sesame dressing.
Recipe Yields 4-6 Servings