PALEO BREAKFAST RECIPES

[i]Bored Of Bacon & Eggs For Breakfast? No Time To Cook? Missing Toast And Cereal?
Breakfast should be quick, easy and enjoyable – and of course grain-free. [/i]
Discount Cookbook Club Members Get This Cookbook Free (password required):

(The cookbook club is a paid subscription that is separate from our free recipe forums)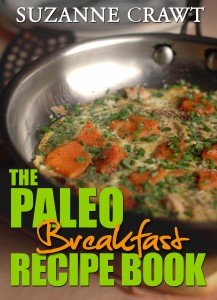 What You'll Get From The Paleo Recipe Book:
Quick & Easy Recipes.

I don't spend hours cooking – you shouldn't have to either
Grab & Go Breakfasts

When you have to get straight out of the door, these options won't hold you up – and can be enjoyed as you travel.
No Time Breakfasts

Mornings are busy enough, these great breakfast options can be made in next to no time.
Child Friendly Breakfast Recipes
With these fun options, your kids will quickly forget about the sugary cereals they used to enjoy.

Vegetarian & Vegan Breakfast Recipes
Whether you're vegetarian and avoiding grains, or just can't face meat in the morning, there are lots of recipes that you'll love.

Drinkable Breakfasts
Perhaps for the gym, or just for a change, these drinkable paleo breakfast options are great!

Egg-free Breakfast Recipes
It's easy to get fed up of eggs; but with these egg-free paleo breakfast recipes, you won't need to.

Primal Breakfast Recipes
If you include so dairy in your diet, you'll clearly see how to change some of your favourite recipes from paleo to primal.
 
Paleo Versions of SAD Breakfast

Missing a SAD favourite like porridge or oatmeal? Once you've tried the paleo version you'll never want to go back.
Something Fancy

Sometimes it's great to spend some time making an impressive breakfast that your family and friends will love.
- Non Members Can Sign Up Here
- Or To Order This Title Separately Click Here