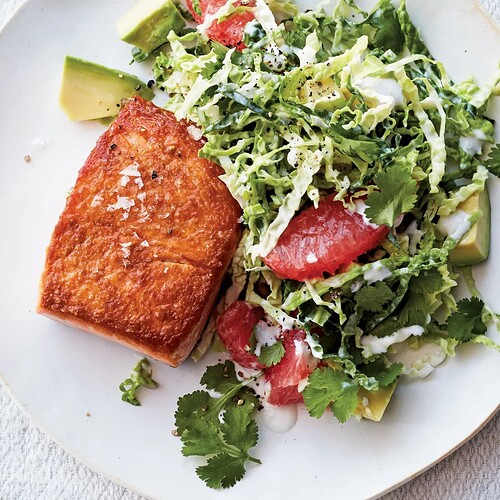 1 large pink grapefruit, cut into supremes, juice reserved
1 small shallot, finely chopped
5 (4-ounce) salmon fillets, preferably wild- caught sockeye or king, skin on, pin bones removed
Fine sea salt and freshly ground black pepper
2 tablespoons olive oil
1 tablespoon plain Greek yogurt
1/2 ripe avocado, cut into 1/2-inch dice
1/2 medium Savoy cabbage head, cored and very thinly sliced
1/4 cup fresh cilantro leaves, for serving
Combine the grapefruit juice and shallot in a small bowl; set aside.
Score the skin side of the salmon and season all over with salt and pepper.
Heat 1 tablespoon of the oil in a large nonstick skillet over medium- high heat. Place the salmon skin side down in the skillet. Cook until the skin is browned and crisp, about 5 minutes. Flip the fillets, reduce the heat to medium, and cook until the fish is barely opaque at the center of each fillet, about 4 more minutes. Set aside.
In a large bowl, whisk together the grapefruit juice–shallot mixture, yogurt, and remaining 1 tablespoon of oil. Add the grapefruit segments, avocado, and cabbage and toss gently to combine; season with salt and pepper. Top the slaw with cilantro and serve alongside the salmon.