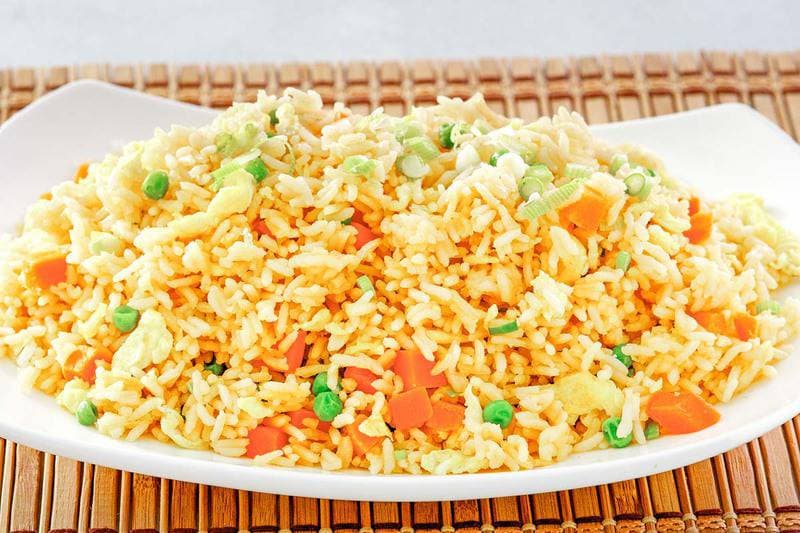 2 cups long grain rice
2 cups water
2 cups vegetable broth
1/2 teaspoon salt
2 teaspoons vegetable oil
2 large eggs whisked
1/3 cup frozen peas and carrots
2 tablespoons scallions thinly sliced
1/2 teaspoon sesame oil
Rinse the rice in a colander and place it in a medium-sized pot with the water, vegetable broth, and salt.
Bring to a boil over high heat.
When the rice begins to boil, reduce the temperature to low, and place a lid on the pot.
Simmer for about 20 minutes.
Sponsored by Barilla
Protein Pasta, Perfected
Barilla's chickpea and red lentil pastas are a delicious way to incorporate more plant-based protein into your favorite pasta dishes, from the pasta company you've trusted for generations.
Learn more
Remove from the heat, and let the rice sit for about 10 minutes.
Place the rice in the refrigerator and allow it to cool completely, about 1 to 2 hours. It's best to make the rice ahead of time.
Place a wok or a large skillet over high heat.
When the skillet is hot, add the vegetable oil and pour in the eggs.
Stir the eggs as they cook and when they have become scrambled remove them from the pan.
Add the rice, frozen peas and carrots, and scallions to the pan.
Stir the rice continually to break it up.
After about two minutes, add the scrambled eggs and pour in the sesame oil.
Continue to cook until the rice has heated through.