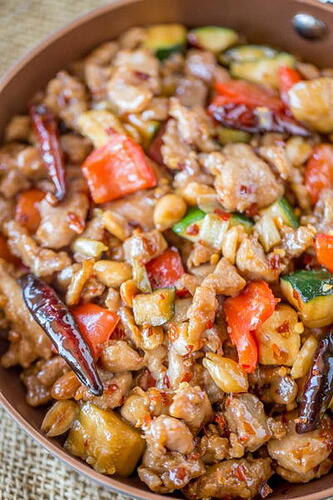 1 pound boneless , skinless chicken breast, diced into 1/2-inch pieces
1/4 cup water
1/2 teaspoon salt
1/2 large egg
1/4 cup cornstarch
2 tablespoons vegetable oil
1 teaspoon white wine
2 1/2 tablespoons reduced sodium soy sauce
1/3 cup water
2 1/2 tablespoons vegetable oil , divided use
12 whole dry chili peppers (smaller than 3 inches; if longer, cut in half)
1/4 cup diced green onion , white part only, in 1/2-inch pieces
1 teaspoon ground ginger
1 teaspoon ground garlic
1 teaspoon crushed red chili pepper
1/2 tablespoon cornstarch mixed with 1/2 tablespoon water
1 teaspoon sesame oil
2 ounces dry roasted peanuts ,
1 red bell pepper, cut into 3/4 inch cubes
1 large zucchini cut into 3/4 inch cubes
Combine the chicken, 1/4 cup water, 1/2 teaspoon salt, 1/2 egg, 1/4 cup cornstarch and 2 tablespoons of vegetable oil and refrigerate at least 1 hour.
In a small bowl add the wine, soy sauce and water and set aside.
Heat wok/skillet on high heat 10 seconds, you want that pan to be nice and hot!
Add 2 tablespoons vegetable oil.
Remove chicken from marinade and add to wok, cooking on high heat for 60 seconds.
Remove the chicken from the pan, add another 1/2 tablespoon of oil and the red bell pepper and zucchini.
Cook on high and cook for 1-2 minutes, until just caramelized and slightly cooked.
Remove vegetables and add the chili peppers.
Stir until they darken a bit, then add the green onions, peanuts, ginger, garlic, crushed red pepper, and sesame oil.
Stir for 2-3 seconds and immediately add the wine/soy/water mixture.
Bring it to a boil, then add the cornstarch and water mix and stir until it has thickened.
Add the chicken and vegetables back in, stir to combine.
Note
To make the chicken more like Panda Express cut the chicken into large cubes then pulsed it twice in the food processor
for just a 1/2 second each just to break it apart and give it the same unique look.