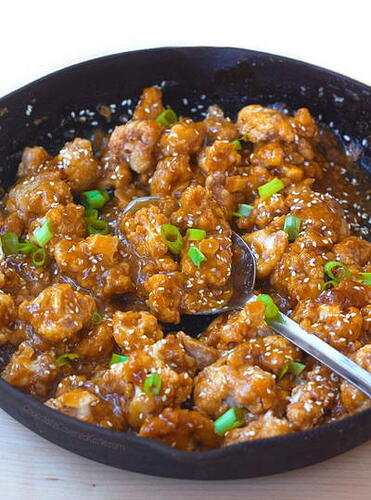 1 small head cauliflower, chopped
1/3 cup low-sodium soy sauce
1/4 cup pure maple syrup, honey, or agave
1/4 cup rice vinegar
1 tbsp minced garlic
1 ½ tsp toasted sesame oil
½ tsp powdered ginger
1 1/2 tbsp cornstarch or arrowroot
1/4 cup water
sesame seeds and scallions, for garnish
Preheat your oven to 450 F.
Grease a baking pan or line with parchment.
Cut cauliflower into florets, then slice so one side of each floret is flat.
Arrange in a single layer in the greased pan.
Bake 10 minutes on the center rack.
Meanwhile, whisk together the soy sauce, sweetener, vinegar, garlic, sesame oil, and ginger in a saucepan.
Bring to a boil.
While waiting, stir together the cornstarch and water until cornstarch dissolves fully,
then slowly whisk this into the saucepan as soon as it boils.
Turn heat to medium and cook 2 minutes, stirring more frequently once it returns to a boil.
Cook until thick.
You can also make the sauce ahead of time if desired, and it thickens more as it sits in the fridge.
Flip cauliflower florets and bake 10 additional minutes.
If desired, you can now move the pan to the top rack and broil 1-2 minutes.
Pour sauce over florets.
Sprinkle sesame seeds and optional scallions on top, and serve.