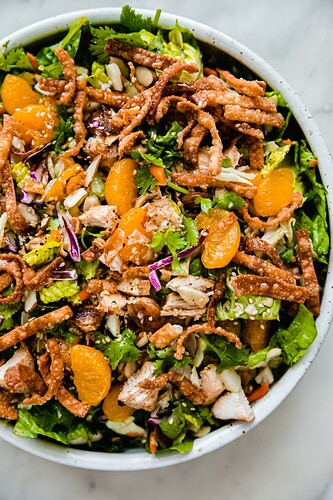 Salad:
2 Wonton wrappers
Canola oil, for frying
2 tablespoons sliced almonds
4 cups romaine lettuce, torn into bite-sized pieces, loosely packed
1 tablespoon fresh cilantro, chopped
3 ounces boneless, skinless chicken breast, grilled and sliced thinly on a bias
1/4 cup Panera Bread Asian Sesame Dressing (recipe follows)
1 tablespoon sesame seeds
Asian Sesame Dressing:
1/4 cup rice wine vinegar
1/4 cup toasted sesame oil
2 tablespoons soy sauce
1 teaspoon toasted sesame seeds
1 teaspoon crushed red pepper flakes
3/4 cup canola or vegetable oil
Directions:
Preheat, the oven to 350 degrees F. To prepare wonton strips, cut wonton wrappers into ¼-inch strips. In a deep skillet, pour canola oil to a depth of 2 to 3 inches. Heat Oil to 365 degrees F. Carefully drop wonton slices into hot oil and fry for about 30 seconds, or until crisp and golden. Remove with slotted spoon and drain on paper towel.
Arrange almonds in a single layer on a sheet pan. Toast in the oven for 5 minutes, toss nuts, then toast for an additional 5 minutes, or until golden. Remove from pan to cool.
To make the asian sesame dressing, combine all ingredients except canola oil in a medium mixing bowl with a wire whisk. Once ingredients are combined, slowly pour in the oil while whisking to form an emulsion.
To make the salad, toss the lettuce, cilantro, wonton strips, chicken and dressing in a large mixing bowl until combined. Place the mixture on a serving plate. Sprinkle with sesame seeds and almonds and serve.
Presented By: Panera Bread