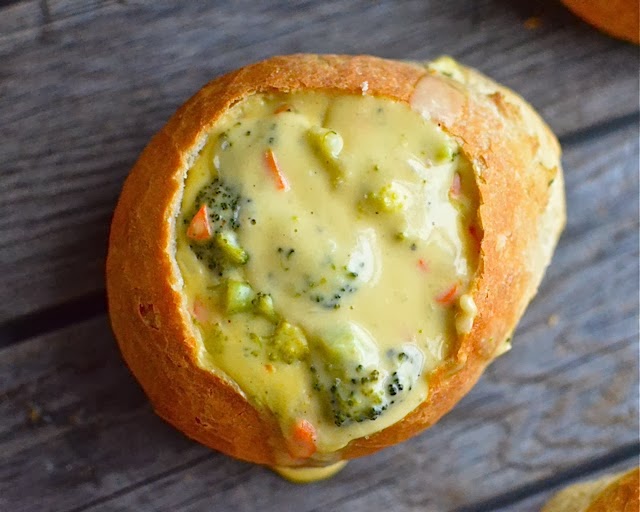 1/2 stick of butter (1/4 cup)
1/2 of a medium yellow onion, chopped
2 cloves garlic, minced
2 cups half and half (or 1 cup of milk and 1 cup of heavy cream)
3 cups chicken stock
1/4 cup corn starch
1/4 teaspoon nutmeg
2 bay leaves
1 large carrot, peeled and chopped small
4 cups broccoli florets (about 1 head)
2 1/2 cups grated cheddar cheese (about 8 ounces)
Salt and Pepper to taste
Bread Bowls (Recipe below)
Cook the butter, onion, and garlic on about medium heat until tender.
Slowly add the half and half and chicken stock.
Mix the corn starch with a little bit of water until there are no clumps and add it to the rest.
Add the nutmeg and bay leaves and cook on medium low until thickened.
Add the carrot and broccoli and simmer until tender.
Discard the bay leaves.
Add the cheese and stir until melted.
Season with salt and pepper and serve in bread bowls.
Bread Bowls
1 1/2 cups warm water (Between 105ºF and 115ºF, hot enough to keep your finger in comfortably)
2 tablespoons instant dry yeast
1 tablespoon white sugar
3 1/2 cups bread flour
1 teaspoon salt
A spray bottle of water
Combine the water and yeast. Let sit for a couple minutes.
Add the sugar and flour and knead for 10 minutes by hand or with stand mixer with dough hook attachment.
Add the salt.
Cover with a damp cloth and let rise in a warm place for about half and hour.
Preheat the oven to 500ºF. Divide the dough into three lumps.
Stretch each one into a tight ball, pinching the bottom with your fingers and sealing it off by twisting it on the counter.
Place on a greased baking sheet.
Score the top and sprinkle with some salt.
Spray with a spray bottle of water and allow to rise 15 more minutes.
Place in the oven.
After 2 minutes, open the oven, spray the bread bowls with the spray bottle and turn the heat to 425ºF.
Continue to bake 18 more minutes or until done.
To cut the bread bowls, use a knife to cut a circle directly downwards, then pull it out.
Makes 3 bowls