I am excited to share with you a delicious and easy recipe from Panera Bread. The Spinach and Prosciutto White Pizza. I've tried many dishes from Panera and this one was surprisingly good. This dish is perfect for those who enjoy cooking and want to create a restaurant-quality meal in the comfort of their own kitchen.
Panera Bread Spinach and Prosciutto White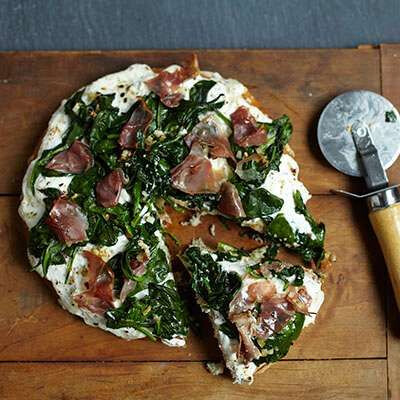 =-=-=-=-=-=-=-=-=-=-=-=-=-=-=-=-=-=-=-=-=-=
The Alpine Secret For Healthy Weight Loss.
=-=-=-=-=-=-=-=-=-=-=-=-=-=-=-=-=-=-=-=-=-=
Ingredients:
1 tablespoon olive oil
3 cloves garlic, minced
1/4 teaspoon red pepper flakes
1 bag (6 ounces) torn mature spinach leaves
1/8 teaspoon black pepper
1 cup part-skim ricotta cheese
1/2 cup shredded part-skim mozzarella cheese
1 teaspoon dried oregano
2 rounds Panera Bread Asiago Cheese Focaccia
1 1/2 ounces sliced prosciutto, chopped into bite-size pieces
Steps:
Preheat your oven to 500ºF.

In a large deep skillet, heat 1 tablespoon of olive oil over medium heat.

Add 3 cloves of minced garlic and 1/4 teaspoon of red pepper flakes and cook for 1 minute.

Add in a bag of torn mature spinach leaves and cook until wilted, around 4-5 minutes. Season with a pinch of black pepper.

In a separate bowl, combine 1 cup of part-skim ricotta cheese, 1/2 cup of shredded part-skim mozzarella cheese, 1 teaspoon of dried oregano, and a pinch of black pepper.

Spread the cheese mixture over 2 rounds of Panera Bread Asiago Cheese Focaccia, making sure to cover the edges and patting into an even layer.

Top with the spinach mixture, spreading it around evenly.

Scatter 1 1/2 ounces of chopped, bite-size pieces of prosciutto over the top.

Place the pizzas directly on an oven rack (no baking sheet needed) and bake for 10-12 minutes or until the cheese is melted and the crust is golden brown and crispy.

Cut each pizza into six wedges and enjoy! This recipe serves 6 people.
Remember, you can always adjust the recipe to your own taste and preferences.
Serves 6
Source: Panera Bread
Happy Cooking!
Until Next Time… Be Well!
Kind Regards,
RSN
Like this recipe? Get our Secret Recipes Cookbook Here