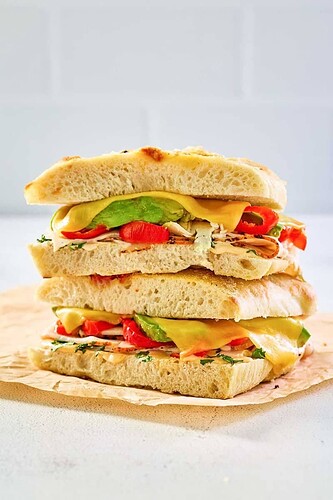 Chipotle Sauce
3 tablespoons mayonnaise
1½ teaspoons Tabasco chipotle sauce
Sandwich
1 Black pepper focaccia bread
1 tablespoon chopped fresh cilantro
2 ounces smoked chicken breast
2 or 3 peppadew peppers
6 slices avocado
2 slices gouda cheese
Chipotle Sauce
In a small bowl combine the mayonnaise and Tabasco Chipotle Sauce.
Stir well, and set aside.
Sandwich
Cut the focaccia into fourths. Then slice each piece horizontally so that you have bread for 4 sandwiches.
Spread the chipotle sauce on the bottom of the bread, and add the chopped cilantro.
Add the smoked chicken, peppadew peppers, avocado slices, and cheese.
Before covering the sandwich, pop it under a broiler for 3 to 5 minutes until the cheese begins to melt.
Remove the sandwich from the oven, and place the top slice of bread onto the melted cheese. Serve immediately.