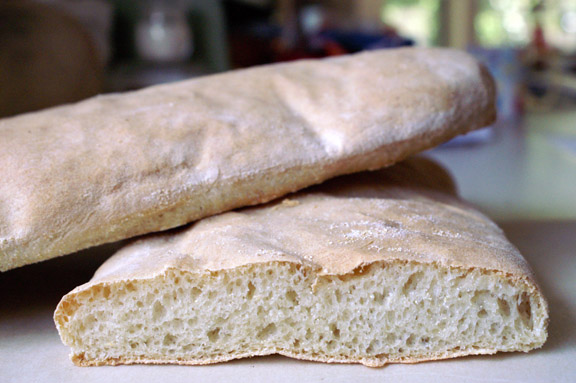 for the overnight sponge:
1 teaspoon active dry yeast
1/2 cup whole milk, heated to warm (105°-115°F)
1 1/4 cups cool water
1 cup sourdough starter*
2 cups unbleached all-purpose flour (Bob's Red Mill is my favorite for breads)
for the dough:
2 cups unbleached all-purpose flour (again, Bob's Red Mill is pretty awesome) + 1 cup more for additions (you won't need that much, but it's nice to have on hand)
1 tablespoon sea salt
1 tablespoon olive oil
1/4 cup cornmeal
2/3 cup (or so) all-purpose flour for the work surface
*so, as you read above, this is my first time making a successful sourdough starter, and I couldn't be more thrilled. I tried one from this very book, actually, and it was weird and terrible. I asked for help on Facebook, and Facebook swept me up in its wings. So many lovely people responded, all of whom know way more about bread than I do, and they directed me to this starter recipe: it worked beautifully, and I have yet to kill it. Which is amazing. If you have your own starter, obviously use it here. If you don't, this one comes highly recommended, by me and by a swarm of others. So make your starter and let it…er…start, and away we go.
Make the sponge:
In a large bowl, dissolve the yeast into the warm milk and let stand until foamy, about 5 minutes. Using a wooden spoon, stir in the water, sourdough starter of your choosing, and bread flour, mixing until everything is homogenous. Cover the bowl with plastic wrap and let stand overnight at room temperature.
Make the ciabatta:
Remove the plastic wrap from your sponge and transfer to the bowl of a stand mixer fitted with the dough hook attachment (or, alternatively, do this by hand if you have a specific way you normally make bread). Add the flour, salt, and oil; knead on low speed until soft and springy, about 7 minutes. See my note below on adding additional flour, and remember to scrape the bowl down periodically with a plastic scraper.
Note: I watched this the entire time, and needed to add a little bit more flour as it went; it shouldn't clean the sides of the bowl, necessarily, but it should come off of it a little bit and smooth out. I added 1/2 cup more as it was kneading, and felt like that was perfect. You add more or less as you see fit, but don't make it too dry. Aim for "not sticky oozy glob."
Remove the bowl from the stand mixer and give it one more scrape-down to catch the sides. Use your hands to incorporate any side leftovers, and cover the bowl with plastic wrap. Place in a warm spot in your kitchen and let rise for about 3 hours; it should double in bulk. Alternatively, you can place the bowl in the fridge overnight, which is what I did, and it turned out beautifully. The chill on it makes it easier to work when you shape the loaves, so you pick. I think if you've done ciabatta before, you're prepared for how soft and sticky it is. If you haven't, I would recommend the refrigerator/overnight method first.
When your dough is ready, sprinkle two half-sheet pans generously with cornmeal.
Cover your work surface with that heap of flour (2/3 cup) and use your pastry scraper to turn the dough out of the bowl onto the prepared surface. Cut the dough into two equal pieces with a large, sharp knife.
Sprinkle a little more flour over top your two dough halves while you gently shape each piece outward into long, flat rectangles, about 6 inches by 16-18 inches in total size. Carefully pick up each loaf by weaving it over your hands and transfer it to the center of the prepared pan.
Cover the loaves loosely with two clean kitchen towels (1 each) and leave them to rise in a warm place in your kitchen until soft and puffy, 1 1/2 to 2 hours.
When ready to bake, place your oven racks in the middle and lower third of your oven, and preheat to 450°F.
Place your bread into oven gently, and bake until they are lightly browned and sound hollow when tapped, about 18-20 minutes. Transfer to wire racks to cool completely before serving. That part, yes, will be difficult.
Makes two really big loaves; ones which you could use for slicing and serving as an appetizer with flavored olive oil, toasting for crostini or bruschetta, or making breakfast sandwiches much like the mediterranean egg sandwich coming up next.