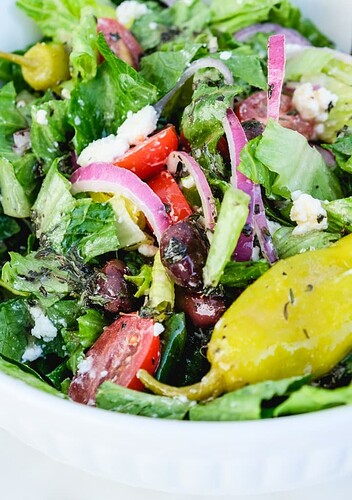 GREEK SALAD DRESSING
1/3 cup red wine vinegar
1/2 cup extra virgin olive oil
1 teaspoon oregano
1 teaspoon basil
1 teaspoon ground mustard powder
2 garlic cloves, minced
1/2 teaspoon salt
1/4 teaspoon black pepper
GREEK SALAD
1 large head romaine lettuce, diced
1 cup cherry tomatoes, sliced lengthwise
1/2 small onion, sliced
1/2 cup kalamata olives, pitted
1/2 cup feta cheese, crumbled
6 Pepperoncini peppers, whole
GREEK SALAD DRESSING
In a small mixing bowl add red wine vinegar, olive oil, oregano, basil, garlic, salt & pepper.
Whisk together until all ingredients are incorporated. Place in a jar with a lid until ready to use.
GREEK SALAD
Clean salad, dry and chop into bite size pieces.
Slice onion and tomatoes in half.
In a large salad bowl add salad and all the ingredients, except the dressing.
Gently toss the ingredients together with salad tongs.
Shake or whisk salad dressing, and pour desired amount over the prepared salad.
Garnish with pepperoncini peppers before serving.