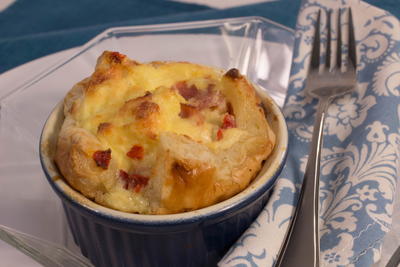 1 tablespoon butter, melted
1 sheet (1/2 package) frozen puff pastry dough, thawed
6 eggs
2 tablespoons milk
2 tablespoons whipping cream
1/2 cup shredded Swiss cheese
3 tablespoons grated Parmesan cheese, divided
2 ounces thick sliced ham, cut into small cubes
1 tablespoon canned and drained pimento or minced fresh red bell pepper
Preheat oven to 375 degrees F. Brush four 3-inch ramekins with some of the melted butter, reserving the rest.
Roll the thawed sheet of puff pastry lightly with a rolling pin into a 12-inch square. Cut into four 6-inch squares. Fit one square of pastry into each of the ramekins, leaving the corners overhanging the dish.
In a medium bowl, beat the eggs well, then remove 1 tablespoon and set aside. Whisk in the milk and cream. Add the Swiss cheese and half of the parmesan cheese, stirring. Microwave in 30-second increments on high setting, stirring well after each. This should take about 3 increments to reach a soft-scrambled egg stage yet still just slightly runny. Stir in the ham and pimento.
Spoon one quarter of the egg mixture (about ¼ cup) into each ramekin and sprinkle with the remaining parmesan cheese. Gently fold the corners of the pastry loosely over the top. Brush dough with the remaining beaten egg.
Bake 25-30 minutes until the dough is golden brown and cooked through. Cool on a cooling rack for 5 minutes and remove from the ramekins, or serve in the dishes.
Notes
The puff pastry dough should not appear wet on the cut edges when it is well baked. If necessary, extend the time by 5 minutes until those edges appear completely cooked.
Souffles may be eaten immediately or served at room temperature. Or store in the refrigerator and reheat in the oven, not the microwave, for best results.