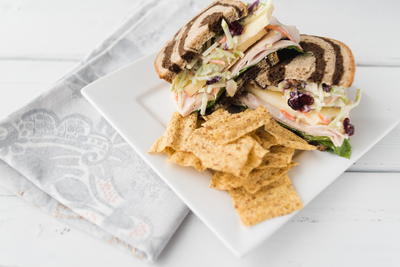 4 slices marble rye bread
2 slices romaine lettuce
2 ounces roasted turkey meat
2 ounces white Cheddar cheese, sliced
1/4 cup plain Greek yogurt
1 tablespoon lemon juice
1 teaspoon apple cider vinegar
1 teaspoon honey
1/2 cup broccoli slaw mix
1/4 cup dried cranberries
1/4 cup chopped pecans
1 Gala apple, thinly sliced
In a bowl, combine slaw mix, cranberries, and pecans.
In a separate bowl, combine greek yogurt, lemon juice, vinegar, and honey. Pour over the slaw mix. Stir to combine.
Assemble sandwich: On one slice of bread, layer turkey, lettuce, cheese, and slaw. Top with apple slices and second slice of bread. Cut in half and enjoy!