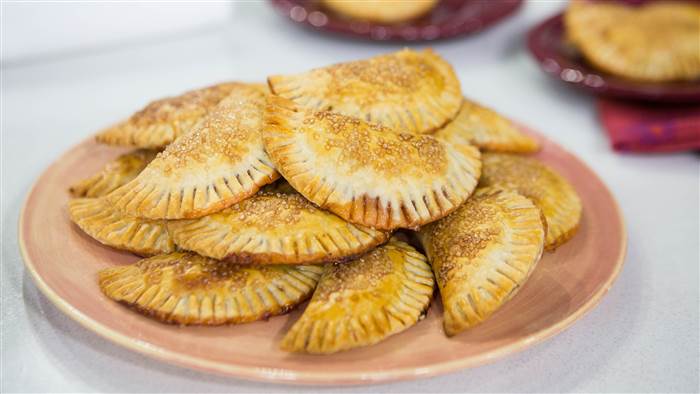 1 large egg
Flour, for dusting
1 package refrigerated pie crusts (about 14 ounces)
1 cup peanut butter
1 cup strawberry jam
Turbinado sugar, for garnish
Preheat oven to 400°F. Line a baking sheet with parchment paper.
In a small bowl, whisk one egg with 1 tablespoon of water. Set aside.
Remove pie crust from pouch and unroll on a floured cutting board.
Use a rolling pin to roll out the dough to about 18 inches in diameter.
Cut out rounds using a 4-inch round cookie cutter, re-rolling out scraps as needed. Repeat with other half of dough.
Working with 1 dough round at a time, moisten the edges of the dough with the egg wash, then put about 1½ teaspoons each of jam and peanut butter in the center. Fold the dough over to close, and use a fork to crimp.
Place on prepared baking sheet, and repeat with the rest of the dough and filling.
Brush the top of the empanadas with egg wash and sprinkle with turbinado sugar.
Bake about 15 minutes, or until golden brown and heated through. Serve warm or room temperature.