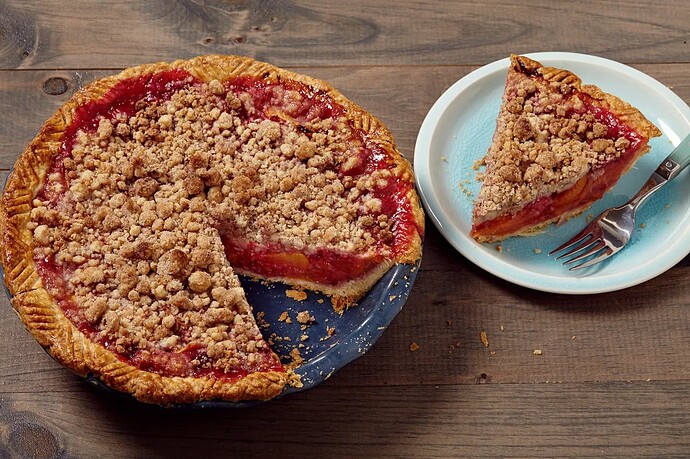 This pie will meet your highest culinary standards with its whole-grain shell and tart, sweet filling. Versatile as it is delicious, try this tender innovative EatingWell crust with any of your favorite fruit fillings and enjoy healthier homemade pie every time.
Crust
1 1/4 cups whole-wheat pastry flour (see Ingredient Note)
1 1/4 cups all-purpose flour
2 tablespoons sugar, plus 1 teaspoon for sprinkling
1/2 teaspoon salt
4 tablespoons cold unsalted butter, cut into small pieces
4 tablespoons reduced-fat sour cream
3 tablespoons canola oil
4 tablespoons ice water
1 egg white, lightly beaten, for brushing
Filling
6 cups sliced peeled peaches (6-8 medium, ripe but firm; see Tip)
1 cup fresh or frozen raspberries
2/3 cup sugar
1 tablespoon lemon juice
3 tablespoons cornstarch
To prepare crust: Whisk whole-wheat pastry flour, all-purpose flour, 2 tablespoons sugar and salt in a large bowl. With your fingers, quickly rub butter into the dry ingredients until the pieces are smaller in size but still visible. Add sour cream and oil; toss with a fork to combine with the dry ingredients. Sprinkle water over the mixture. Toss with a fork until evenly moist. Knead the dough with your hands in the bowl a few times-the mixture will still be a little crumbly. Turn onto a lightly floured surface and knead a few more times, until the dough just holds together. Divide the dough in half and shape into 5-inch-wide disks. Wrap each in plastic and refrigerate for 1 hour.

To prepare filling: Meanwhile, combine peaches, raspberries, sugar and lemon juice in a large bowl; toss well to coat. Let stand for 5 minutes. Transfer the fruit mixture to a colander set over a medium bowl and let drain for 30 minutes. Pour the collected juice into a small saucepan. Return the fruit to the large bowl. Bring the juice to a boil over high heat and cook, gently swirling the pan, until reduced, syrupy and slightly darkened in color, 3 to 4 minutes. Add the syrup to the reserved fruit along with cornstarch; gently toss until the cornstarch is completely dissolved.

To assemble & bake pie: Position a rack in the center of the oven and place a foil-lined baking sheet on the rack below; preheat to 375°F.

Remove the dough from the refrigerator; let stand for 5 minutes to warm slightly. Roll one portion between sheets of parchment or wax paper into a 12-inch circle. Peel off the top sheet and invert the dough into a 9-inch pie pan. Peel off the remaining paper. Trim the crust with kitchen shears or a butter knife so it overhangs the edge of the pan by 1 inch. Scrape the filling into the crust. Roll the remaining portion of dough between sheets of parchment or wax paper into another 12-inch circle. Peel off the top sheet of paper and invert the dough onto the fruit. Trim the top crust so it overhangs evenly. Tuck the top crust under the bottom crust, sealing the two together and making a plump edge. Flute the edge with your fingers (see photo, right). Brush the top and edge with egg white and sprinkle with 1 teaspoon sugar. Cut 6 steam vents in the top crust.

Bake the pie on the center rack until the crust is golden brown and the fruit is bubbling, 50 to 60 minutes. Let cool on a wire rack for at least 1 1/2 hours before serving.
Makes 10 servings.
Per serving: 316 calories; 10 g fat (4 g sat, 4 g mono); 14 mg cholesterol; 54 g carbohydrate; 5 g protein; 4 g fiber; 129 mg sodium…reduce sodium ciontent by using a salt substitute.
Nutrition bonus: Vitamin C (20% daily value).
B-man