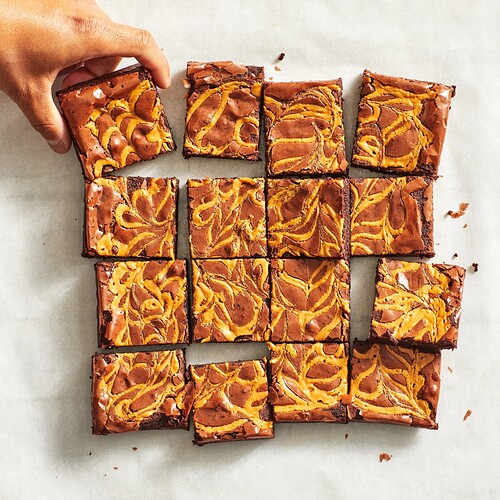 1 package Betty Crocker Supreme brownie mix with pouch of Hershey's Syrup
Water, oil and eggs as called for on brownie mix package
1/3 C. packed brown sugar
1/3 C. crunchy peanut butter
1 egg
Optional: 1/2 C. peanut butter chips
Peanut butter frosting:
1 C. vanilla ready-to-spread frosting
1/3 C. creamy or crunchy peanut butter
2 to 3 t. milk
.
Preheat oven to 350° F. Grease or coat with nonstick cooking spray bottom
only of 13x9-inch baking pan. Follow box-mix instructions for making
fudgelike or cakelike brownie batter. Stir in the optional peanut butter
chips, if desired. Spread batter in pan. Stir together the brown sugar,
peanut butter and egg. Drop by tablespoonfuls onto batter. Cut through
batter several times for marbled effect.
Bake at 350° F. for 30 to 35 minutes or until a toothpick inserted 2 inches
from side of pan comes out clean or almost clean. Cool completely. Frost
with Peanut Butter Frosting.
For frosting: Stir peanut butter into a cupful of vanilla ready-to-spread
frosting and enough milk to make it smooth and spreadable.
Yield: 32 brownies