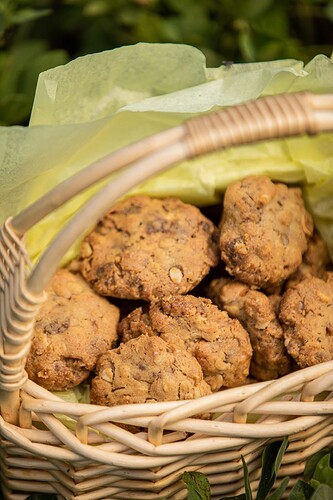 Makes about 6 dozen cookies
3 1/2 cups all-purpose flour
2 cups old fashioned oats
1 teaspoon baking soda
1 teaspoon salt
2 cups unsalted butter, chilled, cut up
1 1/2 cups packed light brown sugar
1 cup creamy peanut butter
4 teaspoons vanilla extract
2 eggs
3 cups honey-roasted peanuts
2 (10 oz) pkg. peanut butter chips
2 (8 oz) pkg. toffee bits or 12 (1.4 oz.) bars milk chocolate toffee, such as Heath bars, chopped
Whisk flour, oats, baking soda and salt in medium bowl.
Beat butter and brown sugar in large bowl at medium speed 3 minutes or until light and fluffy. Beat in peanut butter and vanilla. Add eggs one at a time, beating just until combined. At low speed, beat in flour mixture just until combined.
Stir in peanuts, peanut butter chips and toffee bits. Cover and refrigerate 2 to 3 hours or overnight.
Preheat oven to 375 degrees F. Line cookie sheet with parchment paper. Gently form into balls and flatten slightly to about ½- to ¾- inch thickness. Freeze dough on baking sheets for 10 minutes or until firm. Bake about 12 minutes or until light brown on edges. Cool on baking sheet on wire rack 3 minutes. Place cookies on rack to cool completely before storing.
Peanut Butter Loaf with Chocolate Chips
Prep Time: 10 minutes
Cook Time: 50 minutes
Makes: 12-14 servings
1 cup creamy peanut butter
1 cup granulated sugar
2 eggs
1 cup milk
1 3?4 cups all-purpose flour
1 tbsp baking powder
1 tsp kosher salt
1/3 cup unsalted peanuts halves
1/3 cup semi-sweet chocolate chips
Preheat the oven to 350°F. Grease a 9 x 5-inch loaf pan and line with parchment paper so it over hangs the edges. Beat the peanut butter with the sugar until creamy. Add the eggs, one at a time, until well incorporated. Beat in the milk until smooth.
Stir the flour with the baking powder and salt. Stir into the wet mixture just until combined. Pour the batter into the prepared pan. Scatter the peanuts and chocolate chips over the top of the loaf.
Bake for 50 minutes or until a toothpick comes out clean when inserted into the center of the loaf. Transfer to a wire rack to cool for 10 minutes. Use the parchment paper to lift the loaf out of the pan and directly onto the rack cool completely