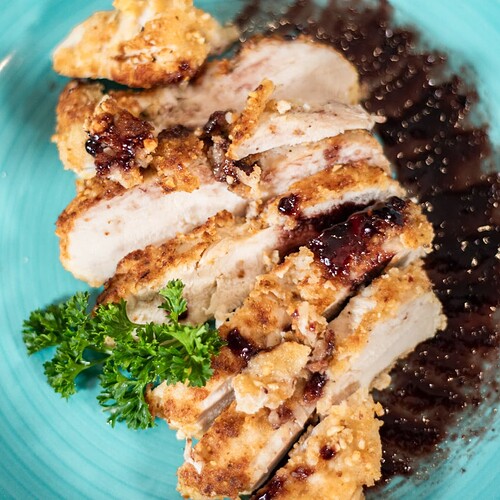 4 boneless chicken breasts
1 tbsp. salt brine
2 cup water
salt and pepper to taste
1/2 cup half and half
1 egg
1 cup ground peanuts
1/4 cup breadcrumbs
1/2 cup flour
1/2 cup vegetable oil
1 cup blackberry preserves
1 cup red wine
Pound chicken to make even width.
Combine water and salt brine. Soak chicken for 30 minutes.
Rinse chicken and pat dry. Sprinkle with salt and pepper.
Combine the milk and eggs in a bowl and mix well.
Combine the peanuts, breadcrumbs, and flour in a shallow dish and mix well.
Dip the chicken in the milk mixture, then coat with the peanut mixture.
In a skillet, heat the oil and sauté the chicken to brown on all sides.
Transfer the chicken to a baking pan.
Bake at 350 degrees for 8-10 minutes, or until cooked through.
Heat the preserves and wine in a saucepan, stirring occasionally. Serve with the chicken.