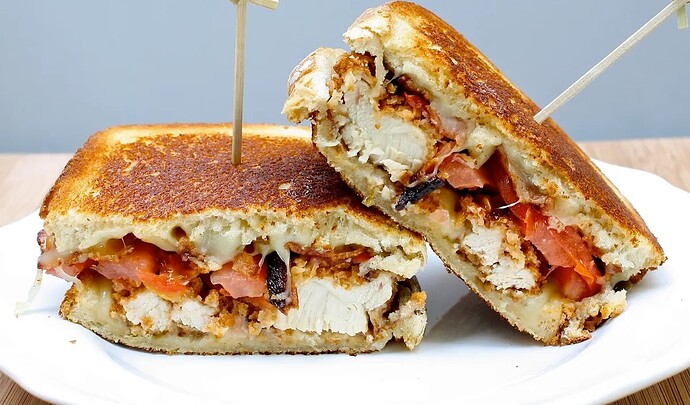 =-=-=-=-=-=-=-=-=-=-=-=-=-=-=-=-=-=-=-=-=-=-=-=
Enjoy Your Best Health Ever! PLUS…
Get Incredible Mental Focus and Potentially
Add Years to Your Life! with The AIP Diet
=-=-=-=-=-=-=-=-=-=-=-=-=-=-=-=-=-=-=-=-=-=-=-=
Salted butter
2 slices sourdough bread
3 slices Pepper-jack cheese
3 slices bacon
3 slices tomato
2 homemade chicken tenders
Ranch dressing or Honey Mustard, for dipping
Butter 1 side of each bread slice. Assemble your sandwich by layering 1 1/2 slice of cheese, tomatoes, bacon, chicken tenders, and the remaining 1 1/2 slice of cheese on the non-buttered side. In a small frying man over medium heat, cook the sandwich on both sides until the bread is brown, and the cheese is melted.
Homemade (Baked) Chicken Tenders -
2 cups panko breadcrumbs
2 tablespoons canola oil
1/2 cup all-purpose flour
1 teaspoon garlic powder
1/2 teaspoon salt
1/4 teaspoon cayenne pepper
3 large egg whites
1 tablespoon water
1 tablespoon Dijon mustard
1/4 teaspoon dried thyme
Cooking spray
3 boneless chicken breasts, cut into 3/4 inch wide strips (I trimmed the excess fat off mine, sliced off about an inch from the flat, narrow end of the breast, and cut into 4 even strips.)
Preheat the oven to 475 degrees. In a large skillet, combine the panko and canola oil. Turn the heat on to medium-high, and toast breadcrumbs for 8-10 minutes, until golden-brown. Stir frequently to ensure that they don't burn! Transfer the crumbs to a shallow dish and set aside.
In a separate shallow dish, mix together flour, garlic powder, salt, and cayenne, and set aside.
In a small bowl, whisk together egg whites, water, Dijon mustard, and thyme.
Place a wire cooling rack over a baking sheet, and spray lightly with cooking spray.
Dredge one chicken strip in flour, then egg mixture, and lastly in the breadcrumbs, shaking off excess in between steps. Place coated chicken on prepared rack, and repeat with remaining strips.
After all the chicken is breaded, spray the tops lightly with cooking spray. Bake in preheated oven to 12-16 minutes, and serve immediately.
=-=-=-=-=-=-=-=-=-=-=-=-=-=-=-=-=-=-=-=-=-=-=-=-=-=-=-=-=-=-=
Your FREE personalized Moon Reading explores the secret
depths of your personality, relationships and true purpose in life.
=-=-=-=-=-=-=-=-=-=-=-=-=-=-=-=-=-=-=-=-=-=-=-=-=-=-=-=-=-=-=