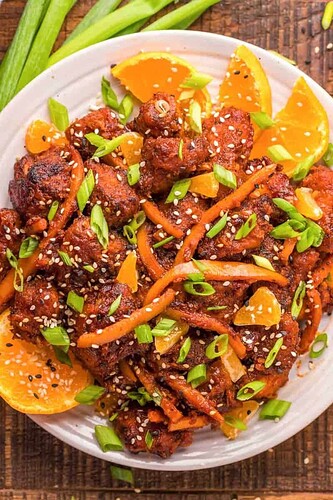 Chicken
1 pound boneless skinless chicken breasts
1 cup orange juice
2 tablespoons canola oil for frying
¼ cup cornstarch
Orange Chicken Sauce
⅓ cup chili garlic sauce
2 tablespoons tomato paste
2 tablespoons hot chile oil
2 tablespoons soy sauce
2 tablespoons mirin
5 tablespoons orange juice (juice from 1 orange)
1 orange peel sliced into thin strips
4 garlic cloves minced
1 teaspoon black pepper
1 tablespoon sugar
1 teaspoon cornstarch
1 teaspoon water
Garnish
3 tablespoons chopped scallions
2 teaspoons sesame seeds
¼ cup diced oranges
Chicken
Cut chicken into bite sized pieces and place them in a bowl.
Pour in the orange juice and marinate the chicken for 30 minutes
Heat oil in a wok to 350°F.
Remove chicken from the marinade and toss chicken in cornstarch to coat. Discard marinade.
Carefully add some chicken to the wok and stir-fry for 5 minutes. Do not overcrowd the wok to prevent the chicken will from sticking together if so. Cook the chicken in batches.
Place the cooked chicken on a wire rack lined baking sheet.
Clean the wok and return it to the stove over medium-high heat.
Orange Chicken Sauce
Combine chili garlic sauce, tomato paste, juice from 1 orange, soy sauce, mirin, and black pepper in a bowl and whisk well.
Add chile oil, orange peel strips, and minced garlic to the wok. Cook for 3 minutes.
Pour in the orange mixture and bring it to a boil.
Use the remaining 1 teaspoon of cornstarch to make a slurry by combining it with 1 teaspoon of water.
Once the sauce starts boiling, lower the heat to a simmer and stir in the cornstarch slurry.
Cook for 5 minutes to thicken.
Add the chicken to the sauce and toss to coat.
Serve garnished with scallions, sesame seeds and diced orange.