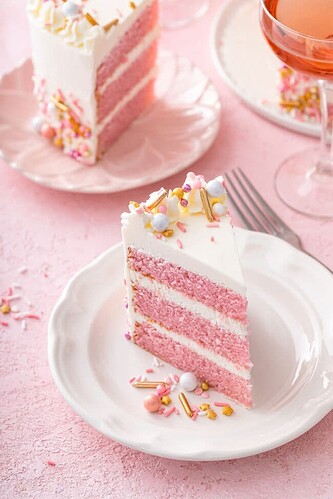 2 1/4 cup all-purpose flour
2 1/2 teaspoons baking powder
3/4 teaspoon salt
3/4 cup unsalted butter, at room temperature
1 1/2 granulated sugar
5 large egg whites, at room temperature
1 1/2 teaspoon vanilla extract or almond extract
1 cup sparkling rose wine or pink champagne or blush
Food color gel (Americolor deep pink or fuchsia)
Swiss Meringue Buttercream
6 large egg whites
2 cups granulated sugar
1 1/2 cups 3 sticks unsalted butter, cut into tablespoons pieces and softened
2 teaspoons pure vanilla extract
1/8 teaspoon salt
To decorate cake:
Sprinkles
Preheat the oven to 350 degrees Fahrenheit and grease two 8-inch cake pans, line with parchment paper rounds then, grease the parchment paper.
Whisk the flour, baking powder and salt together in a large mixing bowl.
Using a handheld or stand mixer fitted with a paddle attachment, beat the butter and sugar together on high speed for about 3 minutes. Scrape down the sides and up the bottom of the bowl with a rubber spatula as needed.
Turn the mixer down to medium-high speed and beat in the 5 egg whites one at a time, letting each egg white fully mix into the batter before adding the next. Beat in the vanilla extract until combined.
Add about 1/3 of the dry ingredients and 1/2 of the champagne and beat on low speed until combined. Add 1/3 more of the dry ingredients and the rest of the Champagne. Beat on low speed until combined then, add the rest of the dry ingredients and beat on low speed until combined.
Add a small amount of food color gel and mix to incorporate.
Divide the batter evenly between the 2 cake pans smoothing the tops with a spatula.
Bake for about 30-35 minutes or until a toothpick inserted into the center of the cake comes out clean with only a few dried cake crumbs clinging.
Allow the cakes to cool in the pans for 10 minutes then turn out onto a wire rack. The cakes must be completely cool before frosting and assembling.
Swiss Meringue Buttercream
Place the egg whites and sugar in a heatproof mixing bowl (for convenience, use your stand mixer bowl) and whisk until combined. Making sure the bottom of the bowl doesn't touch the simmering water, set the bowl over a saucepan filled with about 2-3 inches of simmering water at medium-low heat.
Whisk the egg whites mixture constantly until the sugar is completely dissolved and no longer grainy to the touch about 3-4 minutes.
Transfer the mixture to the bowl of a stand mixer (unless you are already using it) fitted with the whisk attachment or use a handheld mixer. Beat the mixture over medium-high speed until stiff glossy peaks form and the mixture is no longer warm, about 10 minutes.
Switch the stand mixer to the paddle attachment. With the mixer on medium high speed, add the cubed butter one piece at a time and mix until the butter is fully incorporated before you add more butter. Next, add the vanilla and salt and beat for about 40 seconds. The buttercream should be thick and creamy.