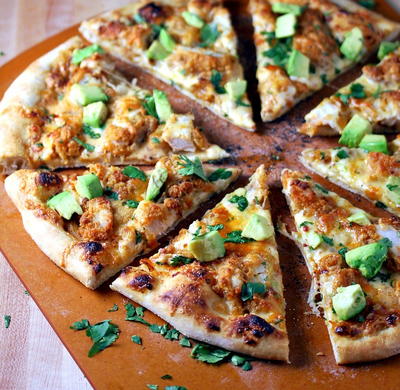 8 oz Crispy Chicken Strips
1 lb ball of your favorite pizza dough
flour
corn meal
1/3 cup ranch dressing
2 tsp chipotle pepper in adobo, minced
2 tsp adobo sauce
1 cup shredded Monterey jack cheese, divided
1/4 cup shredded sharp cheddar cheese
1/2 an avocado, diced
2 tbsp fresh cilantro, minced
Preheat oven to 400 degrees and bake chicken strips according to package instructions.
Cut chicken strips into bite size pieces.
Once chicken is finished, place a pizza stone in the oven and increase heat to 550 degrees.
In a small bowl, combine ranch dressing, chipotle pepper and adobo sauce.
Sprinkle counter with flour and roll pizza dough out into a 12 inch circle.
Transfer dough to a pizza peel or an upside down baking sheet that's generously coated with corn meal (this will help the pizza to slide off).
Spread ranch mixture evenly on pizza crust.
Sprinkle with 1/2 cup monterey jack cheese.
Top with chicken strip pieces.
Sprinkle remaining monterey jack and the cheddar cheese over the chicken.
Gently shake pizza off of the pizza peel or baking sheet onto the preheated pizza stone.
Bake for 8 minutes, until the crust is golden brown and the cheese is bubbly.
Top with cilantro and avocado.