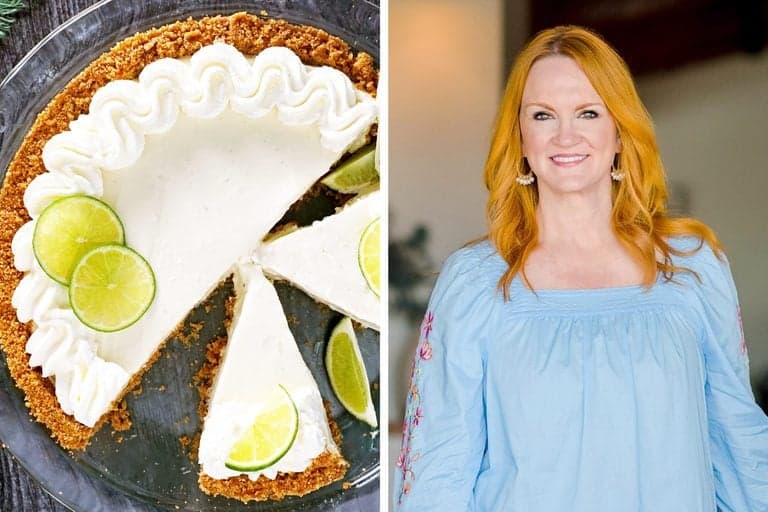 Crust:
12 graham crackers
1/3 cup brown sugar, packed
6 tablespoons unsalted butter, melted
Filling:
3/4 cup heavy cream
1 (14-ounce) can sweetened condensed milk
12 ounces cream cheese, softened
2 teaspoons lime zest, freshly grated (about 1 lime)
1/2 cup fresh Key lime juice
Whipped cream and additional lime zest or slices, for serving
Step 1: Prepare the crust
In a food processor, pulse the graham crackers and brown sugar together until finely ground. Pour in the melted butter, then pulse again until the mixture resembles wet sand.
Step 2: Press the crust into a pie plate
Evenly press the graham cracker mixture into the bottom and up the sides of a deep-dish 9-inch pie plate. Freeze for 20 minutes.
Editor's Tip: Ree recommends using the bottom of a measuring cup or small juice glass to evenly press the no-bake crust into the pie plate. Find more tips to make the perfect graham cracker crust. And if graham crackers aren't your style, you can make a crumb crust with all sorts of ingerdients.
Step 3: Whip the cream
For the filling, beat the heavy cream to soft peaks and set it aside. You may either do this in a stand mixer fitted with a whisk attachment or in a large mixing bowl with an electric hand mixer.
Step 4: Prepare the filling
In the bowl of a stand mixer, combine the sweetened condensed milk, cream cheese and lime zest. Beat, using the paddle attachment, until smooth and creamy. Reduce your mixer to its lowest speed and pour in the Key lime juice. Mix until fully incorporated.
Step 5: Fold in the whipped cream
Gently fold the whipped cream into the filling mixture until incorporated and no streaks remain. Here's how to fold in ingredients without beating out all the volume.
Step 6: Fill, chill and serve
Pour the filling into the prepared crust and spread it into an even layer. Ree says to chill the pie in the refrigerator for at least 12 hours. However, we found that it's easier to slice and serve after 24 hours! While the pie was certainly set after 12 hours, on day two, the pie cuts more cleanly and the crust was less crumbly. Therefore, we recommend preparing this pie a full 24 hours before serving for the best results.
Once fully set, slice and serve topped with whipped cream, lime zest and additional slices of fresh lime as garnish.