Today's Secret Recipe comes from the Rosa's Italian Restaurant in Pismo Beach, California. Rosa's is a relaxed, family-owned eatery that serves classic Italian dishes and house specialties.
Everyone raves about their steamed mussels appetizer. Fresh mussels are steamed and served in a flavorful broth loaded with garlic, tomato and herbs. After you enjoy the mussels you're going to want to sop up every delicious drop of this broth.
Serve your mussels with some garlic toast for dipping by using this recipe from our forum: Go Here
Enjoy!
=-=-=-=-=-=-=-=-=-=-=-=-=-=-=-=-=-=-=-=-=-=-=-=
Lose Weight While Still Enjoying Your Favorite Restaurants
Try this Water Hack
=-=-=-=-=-=-=-=-=-=-=-=-=-=-=-=-=-=-=-=-=-=-=-=
=-=-=-=-=-=-=-=-=-=-=
New Secret Recipe
=-=-=-=-=-=-=-=-=-=-=
Pismo Beach Steamed Mussels
Like this recipe? Get our Restaurant Secret Recipes Cookbook – Go Here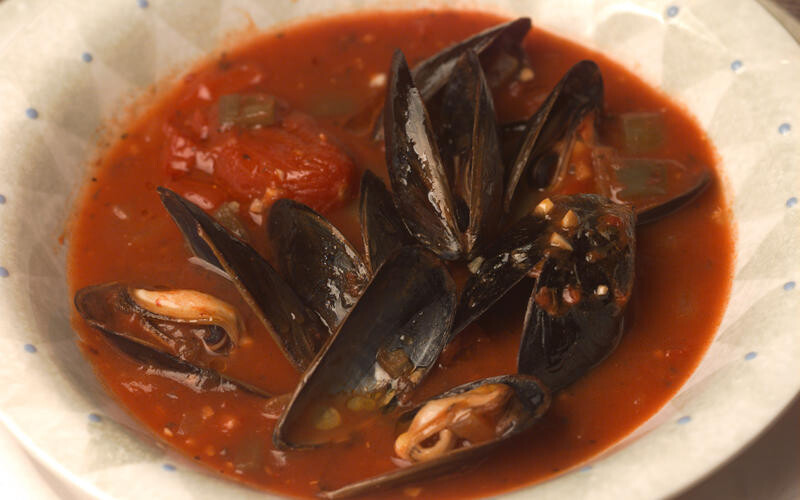 1/4 cup olive oil
4 cloves garlic, minced
1 small green bell pepper, chopped
1 small onion, chopped
1 tablespoon crushed red pepper flakes
1/3 cup chopped parsley
1 cup dry white wine
2 cups clam juice
2 cups tomato puree
2 cups whole peeled tomatoes
2 Roma tomatoes, sliced
Salt, pepper
1/4 teaspoon dried oregano leaves
1/4 teaspoon dried crushed basil leaves
32 large black mussels
12 fresh basil leaves, chopped
Combine oil, garlic, green pepper, onion, red pepper flakes and parsley in 8-quart pot. Cook over medium heat until vegetables are soft, about 5 minutes. Add wine, clam juice, tomato puree, whole tomatoes, Roma tomatoes, salt and pepper to taste, oregano and dried basil.

Bring to boil. Cover, reduce heat and simmer 5 minutes. Turn heat to medium-high and add mussels. Cover and cook until mussels pop open, 3 to 5 minutes. Pile mussels into 8 soup bowls with some of broth. (Discard any mussels that do not open.) Top with fresh basil leaves just before serving.
Serves 8
Source: LA Times
Get more secret restaurant recipes on our Secret Recipe Forum: Go Here
Until Next Time… Be Well!
Kind Regards,
RSN