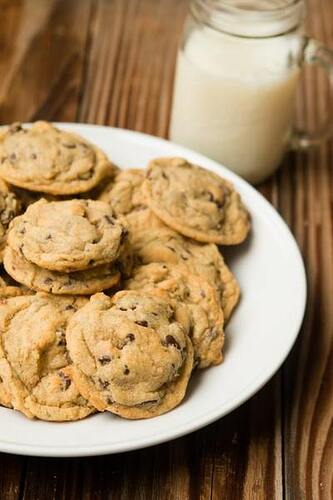 2 Cups Butter (4 sticks)
4 Eggs
1 ½ Cups Granulated Sugar
2 Cups Brown Sugar
1 teaspoon Vanilla
½ teaspoon Almond Extract
5-5 ½ Cups Flour
2 teaspoon salt
2 teaspoon Baking Soda
3 Cups chocolate chips (preferably milk chocolate)
1 Large Box (5.1) French Vanilla Pudding
Combine butter, eggs, sugars, vanilla, and almond extract in large bowl until evenly mixed.
In a separate bowl combine flower, salt, baking soda, and vanilla pudding. Slowly add the dry ingredients into the large bowl of wet ingredients. Once ingredients are combined slowly mix in chocolate chips.
Place on greased cooking sheet.
Bake at 375 for 8-10 minutes.