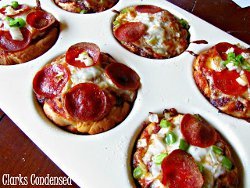 For Sliders:
¼ cup dry milk
½ tsp. kosher salt
1 Tbsp sugar
1 package of yeast
1⅓ cup warm water
2 tbsp. vegetable oil
4 cups flour
Vegetable Oil (for pan)
For Forrest's Delicious Pizza Sauce:
makes enough for two pizzas or all of the sliders
1 8 oz can tomato sauce
1 6 oz can tomato paste
1 Tbsp + 2 tsp oregano
1 Tbsp molasses
2 tsp basil
½ tsp chili powder
¼ tsp onion powder
½ tsp garlic powder
¼ tsp rosemary
¼ tsp red pepper flakes
For Pizza Hut Sauce
1 15 oz. can tomato sauce
¼ cup water
1 tsp sugar
¼ tsp oregano
¼ tsp basil
¼ tsp garlic powder
¼ tsp salt
⅛ tsp black pepper
1 whole bay leaf
½ tsp lemon juice
 Place yeast, sugar, salt, and dry milk into a bowl and mix together. Add water, mix, and let sit for about five minutes. Add in the 2 tablespoons of oil and mix well.
Slowly add in the flour. You may not need to use all four cups, so add in ½ cup increments, until the flour has absorbed the flour, the dough is not sticky. Make sure it is not super dense. Once you've reached the desired consistency, put the dough onto a floured surface. Knead for about 10 minutes.
After kneading is completed, divide into 12-16 even pieces and roll each piece into a 4-inch circle, about 1 inch thick. In each pie pan, pour 1 teaspoon of vegetable oil. The majority of it will sit in the bottom of the pan, but be sure to coat the sides as well. Place one piece of dough in each tin, and let rise about 30 minutes.
After rising, put about 1½ tsp of sauce on each pizza, then desired toppings (we used onions, pepperonis, and green peppers) and mozzarella cheese.
Bake at 475 for 10-12 minutes, or until the crust starts to brown and the cheese bubbles.
For Forrest's Sauce:
Combine all the ingredients together. Refrigerate until ready to put on pizza. Season to taste.
For Pizza Hut Sauce:
Combine all of the ingredients in a saucepan and bring to a boil over medium-high heat. After it begins to boil, bring down to a simmer and cover the pan for about 30 minutes.