This delectable appetizer showcases pot stickers that are filled with freshly ground turkey meat and seasoned with ginger, water chestnuts, red pepper, and green onions. They are served alongside a lively hoisin sauce, and can be enjoyed on any occasion when hosting guests for dinner.
Although they may require some effort to make, the scrumptious outcome makes it worthwhile.
Enjoy!
Planet Hollywood Pot Stickers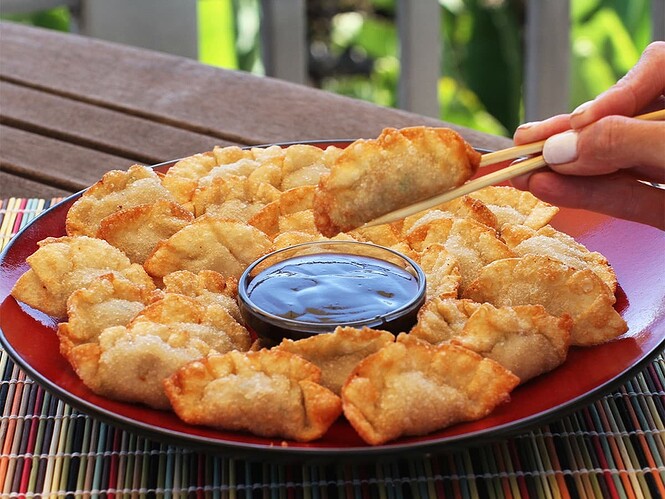 List of Ingredients
1/4 pound ground turkey
1/2 teaspoon minced fresh ginger
1 teaspoon minced green onion
1 teaspoon minced water chestnuts
1/2 teaspoon soy sauce
1/2 teaspoon ground black pepper
1/4 teaspoon crushed red pepper flakes
1/4 teaspoon salt
1/8 teaspoon garlic powder
1 egg, beaten
Vegetable oil for frying
12 wonton wrappers (3 x 3-inch size)
Recipe Instructions:
In a small bowl, add all the ingredients except for the egg, wrappers and oil, then mix well. Add 1 tablespoon of the egg. Save the rest of the egg for use later on. Preheat oil in a deep fryer or a heavy saucepan to 375 degrees F. Use about 1-2 inches of oil, enough to cover the pot stickers.

Use a round cookie cutter or invert a small glass with a 3-inch diameter on the center of a wonton wrapper and cut around it to make a circle. Repeat for the remaining wrappers.

Spoon 1/2 tablespoon of the turkey mixture into the center of one wrapper. Brush a little egg around half of the edge of the wrapper and fold the wrapper over the filling. Gather the wrapper as you seal it so that it has a crinkled edge. Repeat until all wrappers are used.

Fry the pot stickers, six at a time, in the hot oil for almost 5 minutes or until they are brown. Drain on paper towels.
Serve with hoisin sauce for dipping.
YIELD: 4 Servings
Note: For a healthier version, you can try baking these on a cookie sheet in a 375 degree F oven.
Until Next Time… Be Well!
RSN