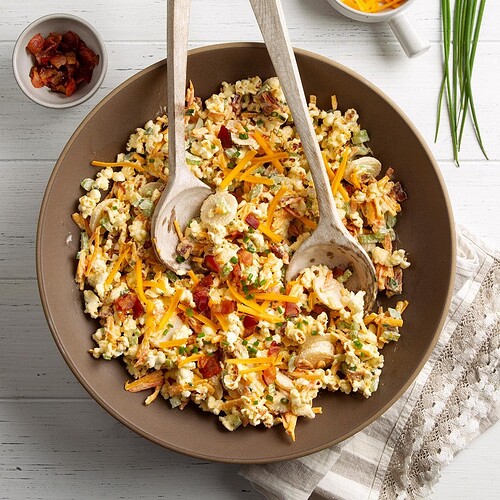 3/4 cup mayonnaise
1 cup diced celery
1 1/4 cups shredded cheddar cheese, divided
1 can (8 oz.) sliced water chestnuts, drained
3/4 cup crumbled, cooked bacon, divided
1/4 cup shredded carrots
2 tablespoons minced chives
6 cups popped popcorn
In a large bowl, combine the mayonnaise, celery, 1 cup cheese, water chestnuts, 1/2cup bacon, carrots and chives; mix well. Add popcorn; stir to coat. Spoon into a lettuce-line bowl. Top with the remaining cheese and bacon. The 6 cups popped popcorn equals about 3/4 cup of unpopped kernels. Serve immediately. Makes 10-12 servings.
This salad is a real conversation piece when you take it to a covered dish dinner. Whoever heard of popcorn in a salad? If you take it to a dinner, mix the salad and carry the popcorn separately to be added at the last minute.