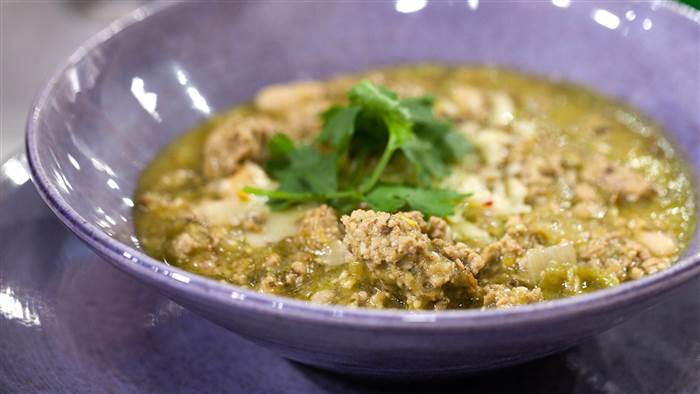 1 pound tomatillos, husks removed and quartered
2 avocados, peeled and pitted
4 jalapeños
1 cup fresh cilantro
4 tablespoons lime juice
Salt
3 tablespoons plus 2 teaspoons olive oil, divided
2 tablespoons white wine vinegar
4 cloves garlic
2 tablespoons sesame seeds, divided
2 medium yellow onions, diced
1 tablespoon dried Mexican oregano
1 teaspoon cumin seeds
1 teaspoon crushed red pepper flakes
1 1/2 pounds ground pork
1 shot Añejo tequila
1 pound cooked cannellini beans (Note: If using canned, rinse off canning liquid)
2 cups water or chicken stock
1 lime, juiced (optional)
In a blender, combine the tomatillos, avocados, jalapeños, two cloves of garlic, cilantro, lime juice, 2 teaspoons of olive oil, salt, 1 tablespoon of sesame seeds and 2 tablespoons of white wine vinegar. Puree until smooth. (Side note: This makes a great salsa verde sauce on its own; you may want to buy double the ingredients and use the extra as a dipping sauce for other savory treats!)

In a heavy soup pot, heat 3 tablespoons of olive oil over medium heat. Slice remaining two cloves of the garlic in half, and cook for 1 minute. Add the onions, Mexican oregano, cumin, remaining sesame seeds and red pepper flakes, and cook for 4 to 5 minutes, until onions are translucent. Add the ground pork and cook until no longer pink, about 6 minutes. Add in the shot of tequila.

Add the tomatillo sauce, beans and water or stock to the pork mixture. Bring to a gentle boil. Reduce heat to low, and simmer for 30 minutes, stirring often. Stir in the lemon juice just before serving.