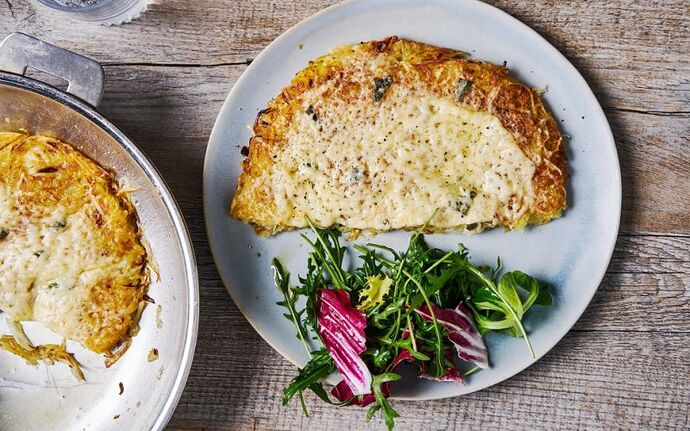 1 pound potatoes, ideally a nice waxy chip potato
1 small onion, finely sliced
1 garlic clove, crushed and chopped
Pinch of dried chilli
2 ounces butter
4 ounces mixed grated cheese such as cheddar, gruyere or comté (a great opportunity to use up leftovers)
Large pinch of fresh or dried sage
Peel the potatoes and coarsely grate them into a bowl.
Add the onion, garlic and chilli and season well.
Tip onto a tea towel and squeeze them tightly to remove any excess liquid, then return to the bowl and mix in 25g of the butter, diced.
Add 15g of the butter to a large non-stick and ovenproof frying pan (large enough to hold the potato mixture) and allow to melt.
Press the potato mixture into the pan and cook over a medium heat until the underside starts to crisp – from around six to 10 minutes.
When ready, flip the rosti onto a plate (cooked side up), melt the rest of the butter in the pan and slide the rosti into it to cook on the other side for about 10 minutes, until browned and cooked through.
To finish, preheat the grill and sprinkle the rosti with the grated cheese and sage, along with a good grinding of black pepper.
Place until the grill until the cheese melts and bubbles. Serve with a crisp green salad.