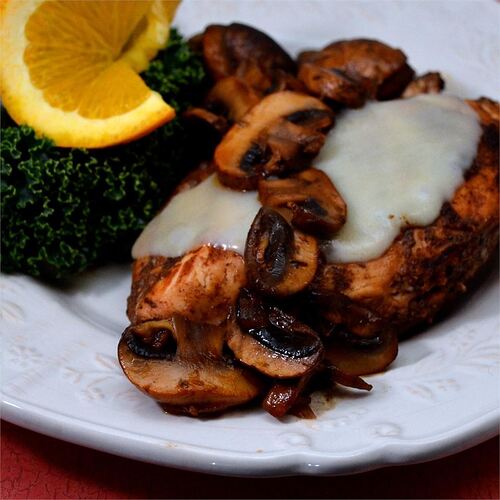 2 teaspoons olive oil
1 teaspoon butter
2 1/2 tablespoons balsamic vinegar
2 teaspoons Dijon mustard
3 large cloves garlic, chopped
4 (4 ounce)s skinless, boneless chicken breast halves, pounded flat
2/3 cup chicken stock
1 large shallot, chopped
2 cups cremini mushrooms, chopped
1/4 teaspoon herbes de Provence, crumbled
1 1/2 teaspoons balsamic vinegar
salt and ground black pepper to taste
2 slices provolone cheese, halved
Heat olive oil and butter in a large nonstick skillet over medium heat.
Mix 2 1/2 tablespoons balsamic vinegar, Dijon mustard, and garlic in a bowl.
Stir chicken breast halves into the mixture to coat.
Transfer chicken with marinade into the skillet and cook, turning occasionally,
until chicken is no longer pink inside, 5 to 8 minutes per side.
Transfer chicken to a platter and keep warm.
Pour 1/3 cup chicken stock into skillet and stir to dissolve browned bits of food from the skillet.
Cook and stir shallot and mushrooms until mushrooms are tender, about 5 minutes.
Stir in 1/3 cup chicken stock, herbes de Provence, and 1 1/2 teaspoons balsamic vinegar.
Cook, stirring occasionally, until mushrooms are deep brown in color, about 2 minutes.
Return chicken breasts to pan and top each with 1/2 slice of provolone cheese.
Cover skillet and let cheese melt; serve with mushrooms.