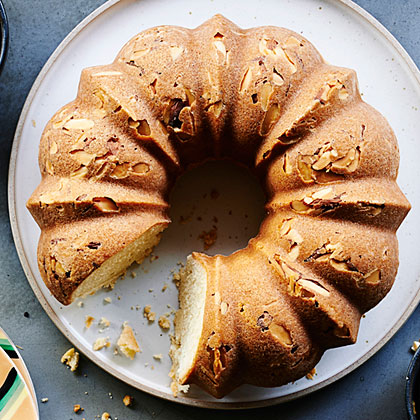 3/4 pound (1 1/2 cups) butter
1 pound (3 1/2 cups) powdered sugar, sifted
6 large eggs
1 teaspoon vanilla extract
2 3/4 cups sifted cake flour
1/4 cup sliced almonds
Preheat oven to 300°. Beat butter in a large bowl with a mixer until creamy. Slowly add powdered sugar, beating until mixture is light and fluffy. Beat in eggs, one at a time, beating well after each addition. Beat in vanilla. Gradually beat flour into creamed mixture.

Heavily butter and flour a 10-in. (12-cup) plain or decorative tube pan; add almonds, then tilt pan to coat inside with nuts. Scrape batter into pan and smooth top.

Bake until a toothpick inserted in center comes out clean, about 1 1/2 hours. Let cool in pan on a rack 5 minutes, then run a knife around edges of tube to loosen cake. Turn out onto rack and let cool at least 1 hour. Serve slightly warm or at room temperature, cut into thin slices.
Make ahead: Up to 2 days, airtight at room temperature.