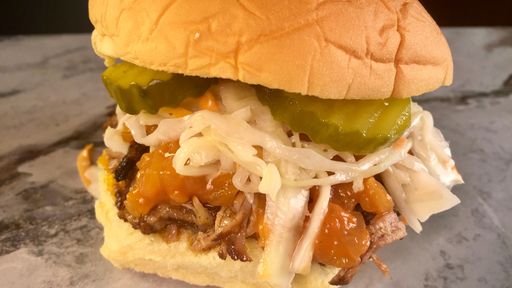 Rub:
1 Cup turbinado sugar finely ground
1/2 Cup Dark brown sugar
1/2 Cup Kosher salt
1 Tablespoon onion powder
2 Tablespoons granulated garlic
1 Teaspoon Cayenne pepper
1 Teaspoon cumin
1 Teaspoon ground black pepper
2 Teaspoons ground mustard
4 Tablespoons Chili powder
Pulled Pork:
1 (4-pound) boneless pork shoulder, fat trimmed
2 tablespoons olive oil
1 cup beef stock
6-8 hamburger buns, warmed, to serve
Barbecue Sauce:
2 tablespoons olive oil
1 onion, small diced
2 cloves garlic, minced
1/2 cup water
1 tablespoon honey
1 teaspoon Worcestershire sauce
1/3 cup apple cider vinegar
1/2 cup ketchup
1 tablespoon Dijon mustard
Rub:
Using a coffee grinder, grind the turbinado sugar with a few pulses until it is lightly powdered.
Combine with other ingredients and hand stir until well incorporated. Store in an airtight container.
Pulled Pork:
Cut the pork shoulder against the grain into three or four pieces to fit inside the pressure cooker.
Combine all the spices in a small bowl.
Rub all over the pork shoulder and allow to sit at room temperature for 30 minutes.
Preferably, rub, cover with plastic, and refrigerate for a few hours or up to overnight.
Bring the pork to room temperature 30 minutes prior to cooking.
Select the Sauté setting and heat the olive oil.
Sear the pieces of pork on all sides until browned.
Add the beef stock, scraping up the browned bits from the bottom of the pan.
Secure the lid and cook on Manual with high pressure for 55 minutes.
Allow to naturally release for 10 minutes, then quick release.
Remove the pork and shred with a fork. Discard the broth and wipe out the pot.
Use your favorite sauce or make the homemade.
Barbecue Sauce:
Return the pressure cooker to the Sauté setting and add the olive oil.
Add the onion and garlic and cook until almost translucent, about 4 minutes.
Add the water, honey, Worcestershire sauce, vinegar, ketchup, and mustard and simmer until thickened, 5 to 7 minutes.
Serve the sauce over the shredded meat or mix the meat and sauce together and serve on buns.