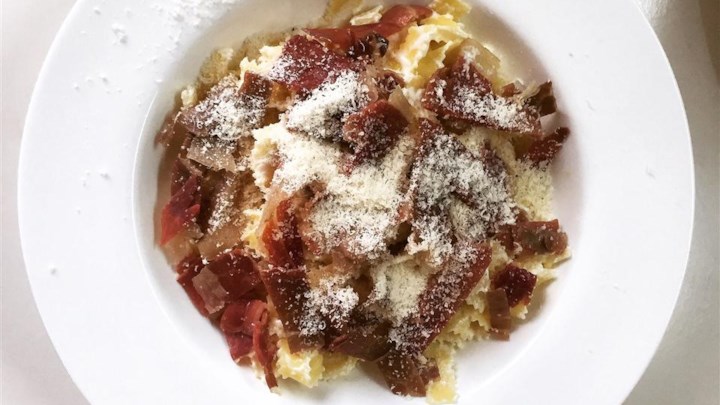 1 (8 ounce) package bow tie pasta or pasta of your choice
1/2 pound prosciutto, sliced
2 cups heavy cream
1 1/2 cups freshly grated Parmesan cheese
1 (10 ounce) can peas, drained
salt to taste
1/2 cup freshly grated Parmesan cheese
Bring a large pot of lightly salted water to a boil.
Add the pasta and cook until al dente, about 8 to 10 minutes; drain.
Lightly grease a skillet with cooking spray.
Cook the prosciutto in the skillet over medium heat until just brown, 3 to 5 minutes.
Remove from heat, drain excess fat and set prosciutto aside on paper towels.
Meanwhile, heat the cream in a saucepan over medium-low heat.
Slowly stir in 1 1/2 cup Parmesan cheese in small amounts.
When all the cheese has been melted, stir in the peas and prosciutto.
Allow to heat for 2 minutes more. Pour over drained pasta and toss lightly.
Season with salt to taste and sprinkle with 1/2 cup Parmesan cheese.