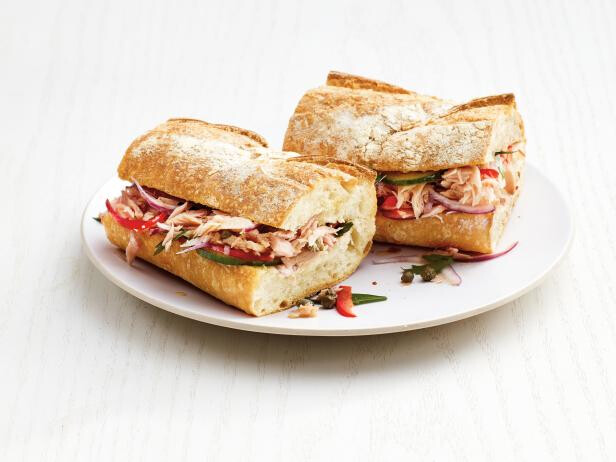 1/3 cup extra-virgin olive oil
1/4 cup red wine vinegar
kosher salt and freshly ground pepper
1/2 small red onion, thinly sliced
4 8-inch-long pieces french or italian bread, split open
1 clove garlic, halved
3 large plum tomatoes, cored (1 halved, 2 thinly sliced)
2-6 ounces jars tuna in olive oils (preferably italian), lightly drained
1 red bell pepper, cut into thin strips
1/2 english cucumber, thinly sliced
1/4 cup packed fresh parsley
2 tablespoons capers, drained
Whisk the olive oil, vinegar, 1/4 teaspoon salt and a few grinds of pepper in a large bowl. Add the red onion; set aside.
Rub the inside of the bread pieces with the garlic, then with the halved tomato and season with salt and pepper; discard the garlic and tomato skins. Arrange the tomato slices on the bread bottoms.
Add the tuna to the vinaigrette, breaking it into pieces. Stir in the bell pepper, cucumber, parsley and capers; season with salt and pepper. Divide the mixture among the bread bottoms. Close the sandwiches and press down on the bread tops gently. Wrap the sandwiches tightly in plastic wrap and place a heavy skillet on top. Let sit 15 minutes to soften the bread, then unwrap and cut in half.