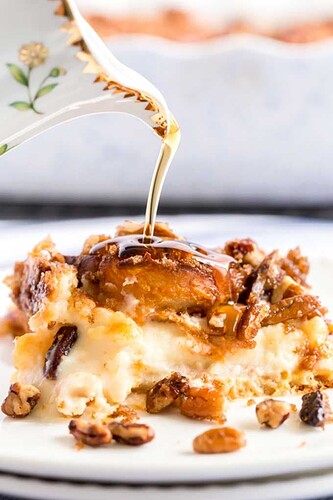 For the Cream Cheese Filling
16 ounces cream cheese, at room temperature
1 cup powdered sugar
1/4 teaspoon vanilla extract
For the Pecan Topping
3 tablespoons butter, melted
1 cup chopped pecans
1/2 cup brown sugar, packed
Pinch of salt
For the Pumpkin French Toast
4 eggs
1/2 teaspoon ground cinnamon
1/4 teaspoon pumpkin spice
1 teaspoon vanilla extract
1 1/4 cup milk
1 (15-ounces) can pumpkin puree
1 (14-ounces) can sweetened condensed milk
1 tablespoon butter, melted
1 loaf Brioche or Challa bread, sliced
Optional
Maple syrup for drizzling
Powder Sugar for dusting
To Make the Cream Cheese Filling
Using an electric mixer or a stand mixer with the paddle attachment, beat the cream cheese until creamy, add the powder sugar and mix well. Add the vanilla and mix until well combined. The mixture should be creamy and lump free. Set aside.
To Make the Pecan Topping
Place the melted butter in a small bowl, add the pecans and mix until all the nuts are coated with the butter. Add the sugar and pinch of salt and mix well to combine. Set aside
French Toast Bake
Preheat the oven to 350 degrees Fahrenheit. Lightly spray a 9 x 13 baking dish with cooking spray.
In a large bowl, whisk the eggs with the cinnamon, pumpkin spice and vanilla. Stir in the milk, pumpkin puree, condensed milk and the melted butter. Mix until the mixture is smooth and all the ingredients are well combined.
Grab a slice of bread and submerge it into the pumpkin custard, turning it to make sure both sides get soaked with custard. Transfer to the prepared baking pan. Repeat the process until the bottom of the pan is covered with bread.
Spread the cream cheese filling on top of the bread.
Soak the remaining bread slices with the custard and place them on top of the cream cheese layer.
Sprinkle the pecan mixture over the top.
Bake for 40 – 45 minutes. The top should be golden.
Remove from the oven and dust with powdered sugar (optional) and serve with a drizzle of maple syrup (optional).