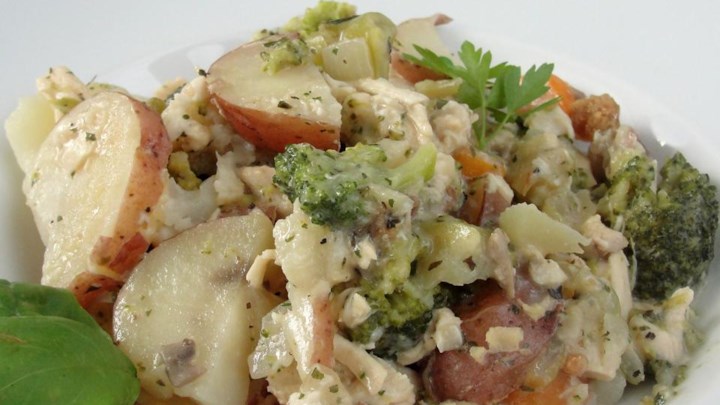 2 cups chicken stock
2 potatoes, thinly sliced
1 1/2 pounds boneless skinless chicken breasts or thighs
1 can condensed cream of chicken soup
1/2 cup milk
1 onion, chopped
1/4 teaspoon garlic powder
2 cups frozen broccoli, carrots and cauliflower combination
1/2 teaspoon dried parsley
1/4 teaspoon dried marjoram
1/4 teaspoon dried basil
1/3 cup grated Parmesan cheese
salt and freshly ground black pepper to taste
Pour chicken stock in dutch oven and add chicken and cook over medium high heat.
When done remove chicken and add potatoes, stirring frequently until tender.
Cut chicken into bite size chunks, and add to potatoes.
Reduce heat to medium. Stir in condensed soup, milk, onion, garlic powder, salt and pepper.
Add vegetables, parsley, marjoram and basil.
Cover, and simmer over low heat until vegetables are tender.
Remove from heat, and stir in Parmesan.