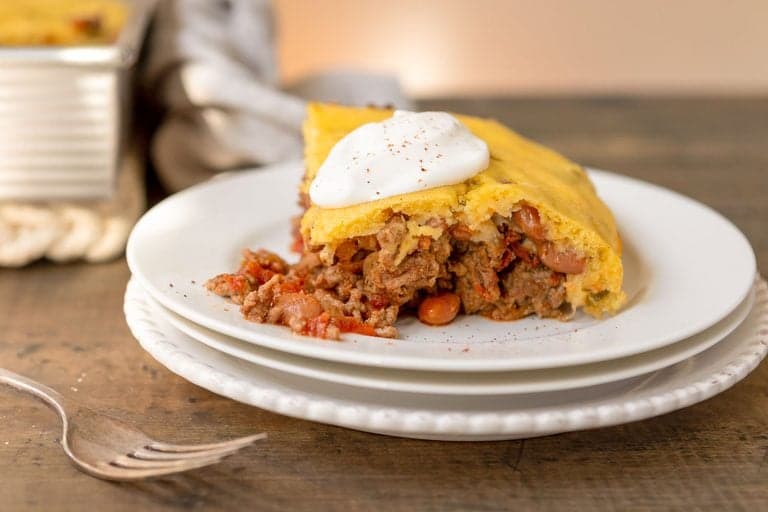 1 pound ground beef
1 small onion, diced
A pinch of salt
A pinch of black pepper
1 (15-ounce) can Ranch-style beans, drained (see note below)
1 (14.5-ounce) can diced tomatoes or Ro-Tel diced tomatoes with chiles
2 teaspoons Worcestershire sauce
1-1/2 teaspoons chili powder
1 teaspoon garlic powder
1 teaspoon onion powder
2/3 cup shredded cheddar or Mexican blend cheese
For the cornbread:
1/2 cup all-purpose flour
1/2 cup cornmeal
2 tablespoons sugar
2 teaspoons baking powder
1/4 teaspoon salt
1 large egg, beaten
1/2 cup buttermilk or 2% milk
1 tablespoon vegetable oil
1/4 cup diced jalapenos or diced green chiles (optional)
Note: Ranch-style beans are pinto beans in a seasoned tomato sauce. If your store doesn't have these, you can substitute canned pinto beans.
Step 1: Cook beef and onions
Preheat the oven to 425°F. Spray an 11×7-inch or 8-inch square baking dish with nonstick spray.
Heat a large skillet over medium heat; crumble the ground beef and add the diced onions. Sprinkle a pinch of salt and black pepper into the pan. Cook, stirring occasionally until the beef is browned. Pour off any excess grease.
Step 2: Simmer the mixture
Add to the pan the beans, diced tomatoes, Worcestershire sauce, chili powder, garlic powder and onion powder; stir everything together. Reduce the heat slightly and simmer the mixture for about five minutes. Add another dash of salt and pepper to taste. Remove the pan from the heat and spoon the beef mixture into the bottom of the prepared baking dish.
Step 3: Make the cornbread batter
Add the flour, cornmeal, sugar, baking powder and salt to a medium bowl, and blend them together. Add in the egg, buttermilk and vegetable oil. Stir the ingredients just until they come together. Fold in the diced jalapenos.
Step 4: Assemble and bake
Sprinkle the shredded cheese over the ground beef mixture, then spoon the cornbread batter into an even layer over the top. Bake the casserole for 15-20 minutes until the beef and cheese are bubbling and the cornbread is baked through. Serve slices of Railroad Pie immediately with sour cream and salsa.