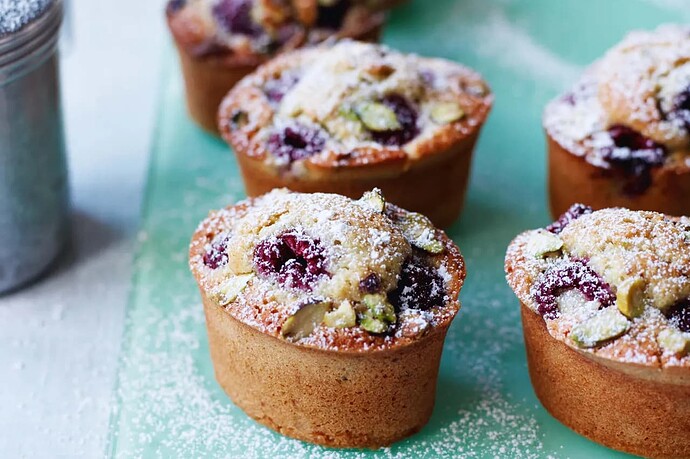 14 Tbsp butter, plus extra for greasing
3/4 cup pistachio nuts, plus a few extra to serve
1 2/3 cups confectioners sugar, plus more for dusting
3/4 cup plus 2 1/4 Tbsp ground almonds
2/3 cup all-purpose flour
5 large egg whites
1 small container raspberries
Preheat the oven to 350°F. Melt the butter in a small pan, then remove from the heat and leave to cool a little. Grease eight holes of the friand (or muffin) tin with a little bit of butter.
Blitz 2/3 cup of the pistachio nuts in a food processor with the confectioners' sugar until very finely chopped. Tip into a bowl with the ground almonds and flour and mix together. Roughly chop the remaining pistachio nuts and set aside.
Froth the egg whites lightly with a fork, then pour into the nuts and flour mixture with the melted butter and mix well.
Pour the mixture into the friand tin holes, add a few raspberries to each one, then scatter with the chopped pistachios. Bake for 20–25 minutes until the friands are risen and springy to the touch and a skewer inserted comes out clean.
Serve warm or at room temperature. Dust with a little confectioners' sugar if you like. They should be light and chewy.
Alternative:
Make the friand recipe above, swapping pistachios for 1 cup pecans and the raspberries for 2.6 oz chewy toffee, chopped into small pieces. Sprinkle the toffee over the friand batter before baking.