Do you have the recipe for Texas Roadhouse Green Beans?
Going forward, please include your question in the title of the post instead of your name. I've changed the title.
looking for cracker barrell green beans receipe
Cracker Barrel Country Green Beans Recipe
Serves/Makes: 4
1/4 pound Sliced Bacon
3 cans Whole Green Beans (14.5 oz each - do not drain liquid)
1/4 of a medium sized Onion
1 teaspoon Sugar
1/2 teaspoon Salt
1/2 teaspoon Pepper
In a two quart sauce pan on medium heat, cook bacon until lightly brown but not crisp. When bacon has browned add green beans. Add salt, sugar, pepper, and mix well. Place onion on top of green beans, cover with a lid and bring to a light boil. Turn heat down to low and simmer beans for 45 minutes. Cooking the green beans for 45 minutes on a very low simmer will blend the flavors.
Texas Roadhouse Green Beans
2 cans green beans, drained
2 cups water
1 tbsp sugar
½ tspn pepper
4 oz raw diced bacon or cooked diced ham
4 oz diced onions
Using the colander, thoroughly drain green beans.
Mix water, sugar and pepper until well incorporated.
Preheat your cooking pan to Medium High heat.
For Raw Bacon - Using a cutting board and a knife, dice the raw bacon into equal size pieces. Place diced bacon into preheated cooking pan. Continually stir bacon with large spoon to keep the bacon from burning. Once cooked add the onions and cook until they are tender and light brown. For Cooked Ham - Using a cutting board and a knife, dice the cooked ham into equal size pieces. - Place the diced ham and onions into the preheated cooking pan. - Using the large spoon, continue to stir the ham and onions until the ham is lightly brown and the onions are tender.
Now that the onions are tender add the liquid mixture and the beans.
Using the rubber spatula stir the mixture until incorporated.
Bring mixture to a boil and turn heat to simmer.
Seems easy enough…Does anyone know the nutritional information on the Cracker Barrel beans, I cant seem to find it anywhere.
This is from my recipe program (from our other site - sendmerecipes.com) (does the calcuations automatically -
Hope this helps -
Per serving:
Calories - 162
Calories from fat - 143
Total Fat - 16g
Saturated fat - 6g
Polyunsaturated fat - 2g
Monounsaturated fat - 7g
Cholesterol - 19mg
Sodium - 502mg
Potassium - 47mg
Total Carbs - 1g
Dietary fiber - 0
Sugars - 1g
Other carbs - 0
Protein - 2g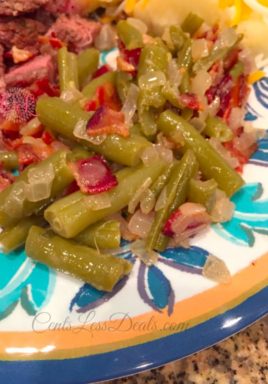 8 oz bacon cut into little pieces
2 cans of green beans, drained
1/4 cup diced onion
1 tsp minced garlic
1/4 cup butter
2 cups chicken broth
1 tsp sugar
pepper to taste
Place bacon in a large skillet on med-high heat.
Once bacon is cooked, remove from pan and drain.
In a medium saucepan combine green beans, bacon, chicken broth, butter, onion, garlic, and sugar.
Bring to a boil then lower heat to medium.
Cover saucepan and let simmer about 15 minutes, or until green beans are tender.
Drain excess juices and serve.