Recipes From South Of The Border
Now you can enjoy the many, unique flavors of Mexican food in your own home.
With Recipes From South Of The Border you will find the finest examples of culinary creativity from this intriguing and vibrant country.
Discount Cookbook Club Members Get This Cookbook Free (Cookbook Club password required):
(The cookbook club is a paid subscription that is separate from our free recipe forums)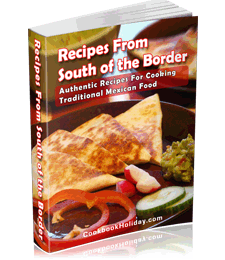 Full Description:
Among the world's great cuisines, the foods of Mexico stand out in their diversity. Rooted in a history of ancient Indian civilizations, inspired by the Spanish Conquistadores of the sixteenth century, and influenced by European tastes in the later revolutionary years, it is a dynamic cuisine, adaptable but remarkably complete even in its melding of different cultures.
Explore Mexican cooking in all its delicious variety with this outstanding recipe collection for today's home cook. You'll find traditional favorites like:
[ul]
[li]ACAPULCO CHICKEN[/li][li]FRIJOLES DE OLLA (BEANS COOKED IN A POT)[/li][li]CARNE ASADO (MEXICAN STYLE BEEF TIPS & GRAVY)[/li][li]CHALUPA[/li][li]CHICKEN ALEJANDRO[/li][li]CHICKEN ENCHILADAS WITH PASILLA CHILI SAUCE[/li][li]CHICKEN OR BEEF FAJITAS[/li][li]CHICKEN TEQUILA[/li][li]CHILES RELLENOS (FRIED STUFFED CHILES)[/li][li]CHILI POBLANO PIE[/li][li]CHIMICHANGAS SUPREME[/li][li]EL CHICO SALSA VERDE[/li][li]ENCHILADAS BANDERAS[/li][li]GRILLED CHICKEN ADOBO[/li][li]GRILLED CHICKEN QUESADILLAS[/li][li]SUPPER NACHOS[/li][li]RICE CON QUESO[/li][li]And Over 200 More!![/li][/ul]
No cooking collection is complete without a copy of the Recipes From South Of The Border cookbook and it's authentic recipes for cooking traditional Mexican food at it's best.
- Non Members Can Sign Up Here
- Or To Order This Title Separately Click Here