Today's 5 star secret recipe is for an amazing crab cake that is served at the Red Fish Grill in New Orleans. These generously sized crab cakes are rich and tender and can work as a meal. This dish has so many wonderful layers of flavor. The crab cakes are served atop very creamy corn made choux and topped with a homemade grilled green onion tartar sauce and tomato relish. A lot of steps go into recreating this dish at home, but after one bite you will agree it's well worth the extra effort.
Red Fish Grill is located on Bourbon Street in New Orleans French Quarter. They offer award winning casual seafood and Cajun favorites prepared in a fun atmosphere. Red Fish Grill is a crowd favorite for authentic Louisiana cuisine.
If you enjoy the flavors of New Orleans, the you should also check out these recipes on our forum: Go Here
Enjoy!
=-=-=-=-=-=-=-=-=-=-=-=-=-=
Unique 3-step System Destroys Cellulite In 28 Days
NEW Cellulite Secret Destroys "Cottage Cheese Thighs" Here
=-=-=-=-=-=-=-=-=-=-=-=-=-=
=-=-=-=-=-=-=-=-=-=-=-=-=-=
New 5 Star Secret Recipe
=-=-=-=-=-=-=-=-=-=-=-=-=-=
Red Fish Grill's Crab Cakes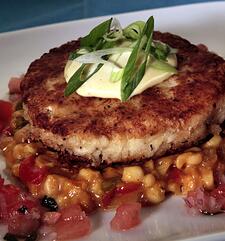 Grilled Green Onion Tartar Sauce:
1/2 bunch green onions
Oil, for brushing the onions
1 egg yolk
1/2 teaspoon kosher salt
1/2 teaspoon dry mustard
1/2 teaspoon sugar
2 teaspoons lemon juice
1 tablespoon cane vinegar or rice vinegar
1 1/2 teaspoons Worcestershire sauce
1/2 cup olive oil
1/2 cup vegetable oil
2 tablespoons sweet pickle relish
Grill the onions: Heat a grill or grill pan over medium-high heat until hot. Lightly brush the green onions with oil, then grill, turning every minute or so, until charred on all sides. Remove from heat and set aside until cool, then slice crosswise into small rings.
In the bowl of a stand mixer fitted with the whisk attachment, or in a large bowl using a hand mixer, beat together the egg yolk, salt, mustard, sugar, lemon juice, cane vinegar and Worcestershire sauce until incorporated. With the mixer running, slowly add the oils until you reach a mayonnaise-like consistency. Fold in the green onions and sweet pickle relish. Cover and refrigerate until ready to use. This makes about 1 cup tartar sauce, which will keep, covered and refrigerated, up to 5 days.
Tomato Relish:
1 tomato, finely diced
2 tablespoons minced red onion
4 large basil leaves, cut in thin strips
Kosher salt and pepper to taste
In a medium bowl, combine the tomato, red onion and basil, seasoning with salt and pepper to taste. Cover and refrigerate at least one hour before using, to give the flavors time to marry.
Jumbo Lump Crab Cakes:
1 pound jumbo lump crabmeat, picked of any shell
2 large green onions, finely diced
1/4 cup lemon juice
1/2 cup mayonnaise
1 1/2 teaspoons salt
Pinch ground black pepper
3/4 to 1 cup bread crumbs
Seasoned flour (1 cup flour seasoned with 1 teaspoon salt and 1/2 teaspoon pepper)
In a large bowl, very gently combine the crabmeat, green onions, lemon juice, mayonnaise, salt, pepper and three-fourths cup bread crumbs, carefully folding the ingredients together to avoid breaking up the lumps of crabmeat. Divide the mixture into fourths, and mold each into a crab cake (if the crab cakes are too delicate to hold together, add the remaining bread crumbs to make them firmer). Flour both sides of each cake with the seasoned flour. The crab cakes can be made up to 1 day ahead and refrigerated, covered, until ready to cook. If making ahead, wait to flour the crab cakes until ready to cook.)
Corn Maque Choux:
1 tablespoon olive oil
3 ears of corn, shucked
1/2 cup diced red bell pepper (from about 1/2 pepper)
1/4 cup diced green bell pepper (from about 1/4 pepper)
1 jalapeño pepper, seeded and diced
1 cup diced onions (from about 1/2 large onion)
1 1/2 tablespoons chopped garlic, from 6 to 7 cloves
2 tablespoons flour
1 1/2 cups milk
1 1/2 cups heavy cream
2 tablespoons Worcestershire sauce
2 tablespoons hot sauce, or to taste
1 teaspoon black pepper
1 1/2 teaspoons kosher salt
1/2 teaspoon cayenne pepper
In a large sauté pan, heat the olive oil over medium-high heat until hot. Stir in the corn, bell and jalapeño peppers, onions and garlic, and cook until the vegetables are softened, 6 to 8 minutes. Stir in the flour and continue to cook, stirring constantly, until the flour begins to smell nutty, 2 to 3 minutes. Slowly stir in the milk and cream, and simmer, stirring constantly, until the liquid reduces and the mixture begins to thicken, about 20 minutes. (If it thickens too quickly, the mixture can be thinned with a little chicken broth or water.) Stir in the Worcestershire and hot sauce, along with the pepper, salt and cayenne pepper. Remove from heat and set aside.
Assembly:
2 to 3 tablespoons oil
4 crab cakes
Corn maque choux
1/2 cup green onion tartar sauce
1/4 cup tomato relish
Sliced green onions for garnish
Heat a skillet over medium-high heat until hot. Add a tablespoon or two of oil to lightly coat the bottom of the skillet, and gently place one or two crab cakes in the pan (this will need to be done in batches). Brown the crab cakes on one side, then carefully flip over and brown the other side. Remove the crab cakes to a rack, and continue cooking until all of the crab cakes are done.
On each of 4 plates, ladle one-fourth of the corn maque choux. Place a crab cake in the center of each and spoon 2 tablespoons of the tartar sauce on top of the cake. Finish each dish with a tablespoon of tomato relish and garnish with green onions. Serve immediately.
Serve 4
Source: L.A. Times
Get more secret restaurant recipes on our Secret Recipe Forum: Here
Until Next Time… Be Well!