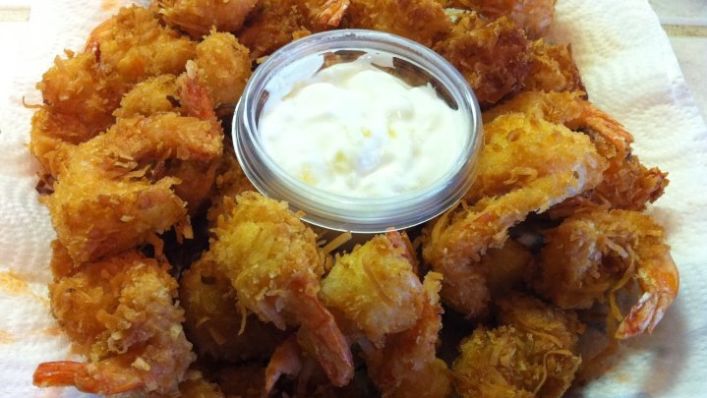 Shrimp:
1 pound peeled & deveined shrimp, large with tail-on
1 inner-pack of Wasa Flatbread Crackers
1 cup shredded coconut
1/4 teaspoon garlic powder
1/4 teaspoon salt
1 egg
1/2 stick melted butter
Preheat oven to 350. Prepare baking sheet with light baking spray. Set aside.
Combine crackers, coconut, garlic and salt in food processor and process until well combined and crackers are well crumbed.
Pour into shallow dipping bowl.
In a separate dipping bowl, scramble the egg.
Dip each shrimp in the egg, then into the crumb mixture.
Place on the prepared baking sheet.
When all shrimp are coated, pour a bit of melted butter over each.
Bake for 20-25 minutes or until shrimp are pink and the coating is golden brown.
Dipping Sauce:
1/2 cup sour cream
1/4 cup crushed pineapple
2 tablespoons pineapple juice
1/4 cup piña colada mix
3-4 tablespoons sugar
Combine all ingredients, chill and serve.