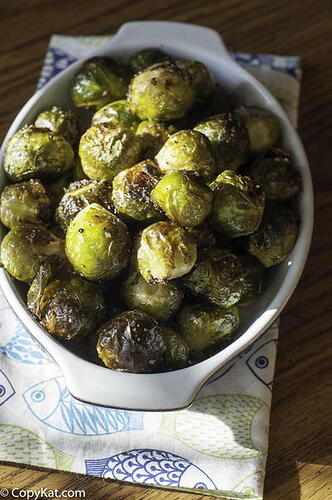 2 pounds fresh Brussel sprouts
2 tablespoons Olive oil
1 teaspoon salt
1/2 teaspoon ground black pepper
3 ounces of butter
Preheat the oven to 400 degrees. Wash Brussel sprouts and nip off the end of the stem and pull off any loose leaves. Place sprouts into a large bowl. Drizzle with olive oil, and sprinkle with salt and pepper. Place a sheet of parchment paper on a cookie sheet and place the Brussel sprouts on the parchment paper. Bake for about 20 to 25 minutes. The Brussel sprouts will be lightly browned on the outside, and tender on the inside when they have cooked.
About 10 minutes before the Brussel sprouts are done, place the butter into a small pot over medium heat. Swirl continually, the butter will begin to brown. When the butter has become fragrant and has a caramel color, remove it from the pot, and pour into a heatproof dish, be sure to leave as many solids as you can in the pot. Discard the solids.
Remove the Brussel sprouts from the cookie sheet and place on a plate to serve. Drizzle over browned butter just before serving.