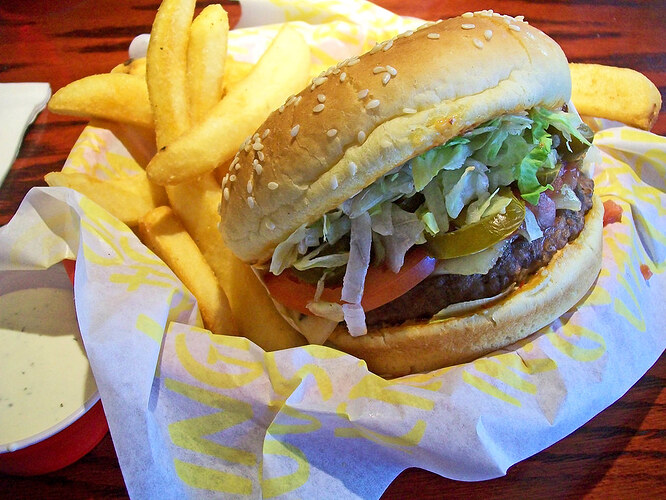 Chipotle Mayo Spread:
1/4 cup mayonnaise
1/4 tsp ground chipotle chile pepper
1/8 tsp paprika
Seasoning Blend:
1 Tbs salt
1 Tbs instant tomato soup mix (Knorr tomato with basil works great)
2 tsp chili powder
1/4 tsp ground cumin
1/4 tsp ground black pepper
Burger:
1 ground beef patty
1/4 tsp Seasoning
2 slices pepper Jack cheese
2 slices tomato
1 sesame seed hamburger bun
4 to 6 bottled jalapeno slices (nacho slices)
2 Tbs fresh salsa or pico de gallo
1/3 cup shredded iceberg lettuce
Make the Chipotle Mayo Spread by combining the ingredients in a small bowl.
Cover and chill until you are ready to use it.
Make the Seasoning Blend by combining the ingredients in a small bowl and stir well.
Store in covered container.
Preheat barbecue or indoor grill to medium heat.
Sprinkle a bit of the Seasoning Blend over both sides of the patty.
Grill 3 to 5 minutes per side.
About 1 minute before the burger is done place a couple slices of pepper jack cheese on top of the patty to melt.
Toast the face of the top and bottom sesame seed bun on the grill.
Spread 2 teaspoons of the Chipotle Mayo Spread on each of the toasted faces of the bun.
Place hamburger patty on the bottom bun, and tomato and jalapeno slices.
Spoon salsa or pico de gallo over the jalapeno slices.
Add shredded lettuce and the top bun.
Note
I could not find the instant tomato soup mix so I used Lipton onion soup mix and 1/4 tsp. basil.
1 Tbs salt was way too much for me so I used 1/2 tsp.