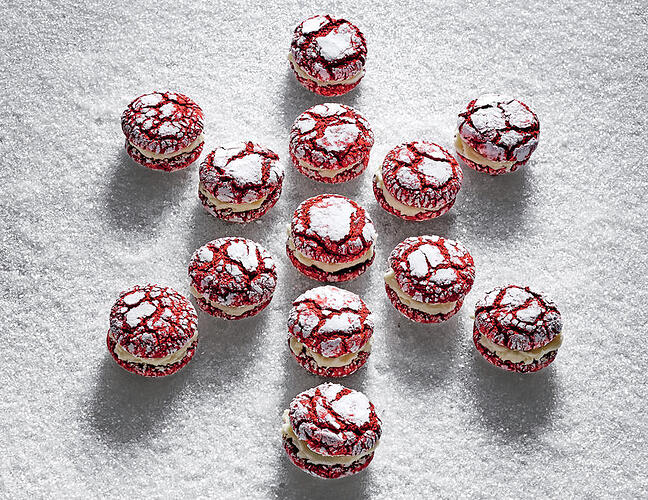 3 ounces semisweet baking chocolate, chopped
1/4 cup unsalted butter
1 cup granulated sugar
2 large eggs
1 tablespoon red liquid food coloring
2 cups all-purpose flour
2 tablespoons unsweetened cocoa
1 teaspoon baking powder
1/2 teaspoon baking soda
1/2 teaspoon kosher salt
2 cups powdered sugar, divided
4 ounces cream cheese, softened
Preheat oven to 375°F with oven racks in the top third and bottom third of oven. Melt chocolate and butter in a large microwave-safe glass bowl on MEDIUM (50% power) until melted and smooth, about 1 1/2 minutes, stirring every 30 seconds. Whisk in granulated sugar, eggs, and food coloring until smooth.
Whisk together flour, cocoa, baking powder, baking soda, and salt, and add to butter mixture, stirring gently just to combine.
Place 1 cup of the powdered sugar in a small bowl. Drop dough by tablespoonfuls into powdered sugar, rolling to coat, and place 1 inch apart on parchment-lined baking sheets. Using the heal of your hand, gently flatten domed tops of dough. Bake in preheated oven until cookies are almost set and outsides are crackled, 10 to 11 minutes. Transfer pans to wire racks, and cool cookies completely, about 30 minutes.
Beat cream cheese and remaining 1 cup powdered sugar with an electric mixer on medium speed until smooth. Spread 1 1/2 teaspoons cream cheese filling onto flat side of half of the cookies. Cover with remaining half of cookies, flat side down, and gently press.
Southern Living