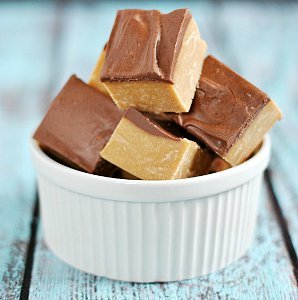 3 cups Reese's peanut butter chips (this was 2 bags for me)
14.5 oz sweetened condensed milk
1 cup milk chocolate morsels
Line an 8x8 (or 9x9) baking dish with parchment or wax paper. Set aside.
In a small saucepan, stir the peanut butter chips and sweetened condensed milk over low heat until melted and smooth.
Pour the mixture into the prepared baking dish. Use a spatula to smooth it if needed.
Microwave the chocolate morsels in a small bowl for 1 minute. Stir until melted and smooth (heat for an additional 30 seconds if needed). Pour melted chocolate over the fudge, and use a spatula to gently spread it.
Let cool at room temperature for 4-5 hours before cutting into 1-inch pieces.
Speed set the fudge in the refrigerator for 30-60 minutes, but expect condensation if you try to serve it at room temperature.