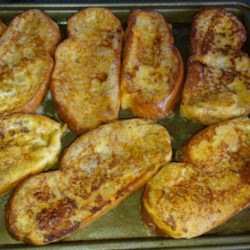 2 eggs
1/2 cup milk
1 teaspoon vanilla extract
1/2 teaspoon ground cinnamon
1/4 teaspoon ground allspice
1 pinch salt
6 (1 inch thick) slices French bread
1 tablespoon butter, or as needed
Preheat oven to 400 degrees F (200 degrees C).
Whisk eggs, milk, vanilla extract, cinnamon, allspice, and salt together in a large bowl. Place bread slices in egg mixture and soak, turning to coat, until bread is completely saturated.
Melt butter in a cast-iron skillet over medium heat. Working in batches, cook bread in hot butter until golden, about 3 minutes per side. Transfer toasted bread to a baking sheet.
Bake toast in the oven until outside is crisp and slightly puffed, 12 to 15 minutes.
Chef John