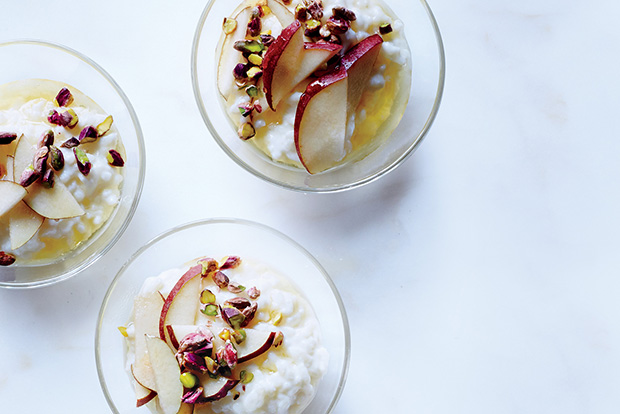 1 cup bomba or arborio rice
1/4 teaspoon kosher salt
5 cups whole milk
1/2 cup sugar
1/2 teaspoon orange-flower water
1 pear, sliced
1/3 cup chopped unsalted, roasted pistachios
Honey (for serving)
Bring rice, salt, and 1 1/2 cups water to a boil in a medium saucepan. Reduce heat, partially cover, and simmer until water is almost completely absorbed, 6–8 minutes.
Add milk, return to a simmer, and cook, stirring occasionally, until rice is tender and milk is thickened, 30–35 minutes. Add sugar and orange-flower water and cook, stirring, until sugar is dissolved, about 1 minute longer. Let cool slightly.
Serve rice pudding topped with sliced pear and chopped pistachios and drizzled with honey.